The First Step is to Draw a Line in the Sand

Hi, I'm Scott Stembridge. It's great to be with you this week.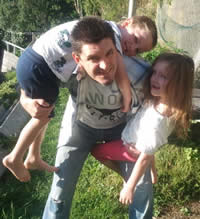 This week I want to share five strategies for taking committed action that will guarantee your success as a writer. These five ideas will help keep you motivated and full of confidence. They'll also allow you to gain real world experience while you're still learning.
I used these methods to fully embrace my own new career path. Now I'm establishing myself as a B2B copywriter, I'm writing a book, and I've even started a money-making website on the side.
The specific writing path I've chosen is copywriting; you may have chosen a different path. However, we're all here to become writers, and this information is universal for success.
Whatever stage you're at, these tips will help you move your writing business to a higher altitude. All you need is a commitment to yourself and to taking action. An understanding of where you're at, what you know so far, and what you still need to learn. Plus, the desire to find the information you need and implement it.
The first step is to draw a line in the sand. Tell yourself and everyone around you, "I'm making this change, and I'm committed to it 100%."
That was a defining moment for me. The day I first said out loud that I am a copywriter, I felt a profound shift in myself … that on another level the universe was listening and reacting to my words.
Why does it work? Because we often have a hard time staying motivated to do things that don't have an immediate benefit. (Becoming a successful freelance writer will not happen overnight.)
Making a public commitment is an extremely effective way to bring your goal into the present. People begin to think of you as a copywriter. And your thoughts and actions begin to change to meet the expectations people have of you.
So, take a moment right now to write down your commitment to yourself. Pin it up on your wall where you (and everybody else) can see it. Go and share your decision with your loved ones and your friends. Get their buy-in to help reinforce what you're doing. Blog about it. Share your story with others on social media. You never know who'll pick up on it. It could even lead to some work.
Tomorrow, I'll give you one specific action to take that will go a long way toward building your self-confidence on your road to success. Today, simply share your commitment in the comments.

The Professional Writers' Alliance
At last, a professional organization that caters to the needs of direct-response industry writers. Find out how membership can change the course of your career. Learn More »

Published: March 10, 2014