What Are You Selling?

Christina Gillick here.
This week we're talking about setting up your freelance website and using it to bring in income beyond client projects …
Let's say a month has passed …
Your site is launched and attracting tons of clients …
There's just one problem. You're already booked solid!
Of course, you could – and should – book yourself out several months so your lead pipeline never goes dry.
But there's also a way you can cash in on those qualified, potentially paying clients – without doing a custom job for each one …
The secret is information products!
Self-publishing your own information products is a great way to cash in on your "expert status" and raise your income.
In fact, self-published information products (or info products, for short) are one of the easiest ways to make extra income as a freelancer.
Yes, they do require a bit of work up front, but they more than make up for it in long-term, reliable income added to your freelance business.
To get started, let's think about the kinds of info products you could create …
A photographer could create and sell printable card templates for clients to use with their photos …
A writer could put together a set of checklists for clients to make sure they have everything they need to effectively launch a new product or follow up with customers …
A resume writer could put together a 30-day action plan for finding a killer job …
Basically, if you can dream it, you can do it.
Just remember to consider what your ideal clients want!
Offering something like an e-book or written report doesn't require a lot up front –
The investment is low – if you write it yourself, it's free!
The profit is high! Once you finish one report, you can sell it over and over again.
Plus, there's zero inventory, no shipping expenses, and everything can be automated!
And, you don't have to stop with written products … you could offer anything – even high value items like videos, podcasts, or informational e-newsletters …
Itching to get started? Here's today's action step:
Action Step: Watch this video on self-publishing. Be sure to take notes so you can later add your own info product to your site.
And, remember to keep it simple … even a short 3-page checklist could be positioned to sell for $9.95 or more.
Then, we'd love for you to share your ideas the comments here.
If you don't yet have a website, start here.
Tomorrow we'll talk about a way you can make money from your freelance website … even while you're sleeping. Stay tuned!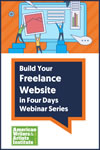 Build Your Freelance Website in Four Days
No matter what niche you're in, if you're a freelancer, you must have a website that showcases what you do. You can launch your own professional website in just 4 days. Experts show you every step. Learn More »

Published: March 6, 2014