Write Your Own Success Story and
Live the Writer's Life Sooner

Whether you're a stay-at-home parent, retired, underemployed, or simply ready for a career change, becoming a freelance writer is absolutely within reach, if you really want it. I know, because I did it after many years of being a corporate worker bee.
Hi, I'm Christy Goldfeder. And this week, I'm going to teach you my best tips to jumpstart your own ideal version of the writer's life.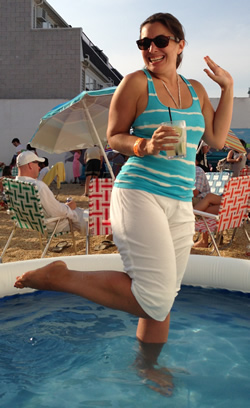 Today, you'll learn my #1 success habit to create whatever you want. It can help you design the career of your dreams or achieve other goals – like running a marathon or passing a test.
So, let me ask you … what does your ideal version of the writer's life look like?
Is it a "barefoot" writer's life – working from home in jeans, with a 30-second commute to the home office …
Or, a traveling writer's life – extended vacations with mornings spent typing on your laptop in a café and afternoons spent on the beach …
Or, maybe it's a happy family life – writing while the kids are at school with plenty of play time when they're home …
Whatever vision you keep in your mind will come true. If you can dream it, you can achieve it.
The power of visualization has been scientifically tested. A famous basketball study found that participants who "practiced" sinking free throws through visualization improved performance by 23%, almost as much as those who put in 30 hours of physical practice.
As a writer, you practice visualization skills every time you write. So, why not use this skill to paint the picture of your own successful future?
That's what I did – I wrote out my perfect day of work. I wanted an early morning healthy routine – wake up, work out, meditate. I'd trade my stressful, sardine-can subway commute for a home office and plenty of writing time during my peak hours. Plus, I wanted to make money while traveling.
Guess what I got? In my first year of freelancing, my schedule is my own. I write in my home office, and my commute has reduced from 30 minutes to 30 seconds. My husband and I traveled for six weeks for both pleasure and business in 2013. We went camping in Pennsylvania, ate barbecue and went to rock concerts in Austin, caught an Orioles game in Baltimore, went surfing at Rockaway Beach, and attended AWAI's Bootcamp … all without having to ask any boss if I could take time off. And, because living the writer's life means I can write for clients from anywhere, I was able to earn money on two of our vacations.
Today's Action Step: Write out all the details of your perfect day of work. What hours do you spend writing? Do you write from home or an office? Do you drive, bike, or walk to work? What kinds of projects do you work on? Who else are you working with?
Once you've scripted your perfect day of work, review it often. Visualize it once a day, if you can. Pretty soon, you'll start to see elements of it come into your life.
Do you already know what your perfect day looks like? Let me know in the comments section. Tomorrow, I'll show you how to use what you know already to start your writing career right now.

The Professional Writers' Alliance
At last, a professional organization that caters to the needs of direct-response industry writers. Find out how membership can change the course of your career. Learn More »

Published: March 31, 2014