How to Escape the
"Fear and Greed" Straightjacket

Fear and greed.
Those words are the mantra of mediocre copywriters.
As you read in last week's issue of The Golden Thread, a copywriter who thinks these are the most important emotions to use in copywriting is trivializing his prospect's life. He reduces the prospect's emotional life to a cardboard cutout image.
Your prospect is far more complex than that.
For example, let's say your prospect is a 58-year-old man. Certainly, he worries about his retirement savings … and if it'll be enough for his wife and him. You might say that's fear. In a way, it is. But it's much more complex than that.
His concern is mixed with excitement about how his life is going to take a new direction. Those emotions blend with embarrassment that he hasn't planned better. And those three emotions don't even begin to uncover how he truly feels about retirement.
Getting to the core …
The question I left you with last week was this: How do you come up with these deeper emotions?
To answer this, we'll change focus from your prospect's emotions to his core complex. The core complex is the interplay of your prospect's beliefs, feelings, and desires. So, instead of trying to discover simply his emotions, we're going to determine his core complex.
To do this, don't start with the prospect. This sounds like heresy, I know. But you'll never understand your prospect's core complex if you haven't thoroughly grounded yourself in your product.
Gene Schwartz – one of the top 10 copywriters ever – always started with the product to understand his prospect's core complex.
Here's a headline for a 1968 space ad he wrote for Dr. Henry Bieler's book, Food Is Your Best Medicine: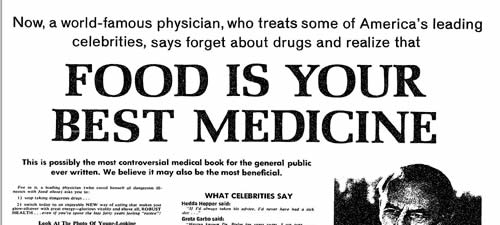 Just looking at that headline, you start getting a sense of how Schwartz perceived his prospect's core complex. How did he get there?
When Schwartz wrote about a book, he read it at least three times. He underlined and annotated the book every time he read it. He bragged, rightfully so, that by the time he was ready to write the ad, he knew the book better than the author did.
He took this approach for every ad he wrote regardless of the product.
This is where you must start your search to understand your prospect's core complex. Talk to your client about the product. Talk to the product manager. Talk to the sales department. Talk to customer service. Study samples. Try the product yourself. Read the book three times like Schwartz did.
Now the digging really begins …
Once you really understand the product, it's time to dig into your prospect's core complex.
Harness your imagination. Think of somebody you know who would like or benefit from the product. If you're writing about Dr. Bieler's book, start by asking what are that person's beliefs, feelings, and desires that are relevant to the book.
Write down your thoughts in detail as you do this. Once you've completely exhausted your imagination (but you really haven't yet), it's time to start listening directly to your prospect. What can he tell you?
Go to the Internet and find forums related to your product. For Dr. Bieler's book I searched on: "food as medicine forums" (without the quotation marks).
A message on one forum had this entry about food-based relief of depression …
I believe if gathered and tinctured by the person who needs it (or someone they trust) St. John's wort is of great benefit, like bottled sunshine, in fact. BUT commercially grown, under who-knows-what conditions, "standardized" etc., I'd be wary of. It's Big Pharm all over again (IMO). So in a whole-person approach to recovery from depression, AFTER discontinuing prescription meds, it has a place.
What are the beliefs, feelings, and desires here?
Not surprisingly, distrust of "big pharm." But also distrust of large commercial growers. There's also a strong feeling of self-reliance or relying on trusted friends. The writer also implies that the usefulness of St. John's wort is diminished while taking prescription meds.
And, in this one posting, you get the great phrase "bottled sunshine."
Look up the product or one like it on Amazon.com and read the reviews. While a lot of the reviews will be about the product's effectiveness, delivery problems, and the like, you can start to glean a sense of the people who order and buy products like the one you're selling. (You want to know those people at this point.)
Here's one quote from a review of Bieler's book …
So it's still my favorite nutrition book after 37 years. I keep going back to Dr. B's principles whenever I feel my health is less than robust.
What would I distill from this quote if I were writing a current ad for the book? Trust. You can trust the good doctor to come through when you feel your health is less than robust.
A resource for understanding your prospect's core complex existed long before the Internet and still yields the best insight. This is your prospect himself.
The best source of information about your prospect …
I bet you know someone who'd be interested in a book like Dr. Bieler's – probably more than one person.
Take them out to coffee or lunch. Listen to them. You don't want to ask specifically about the book. Ask what they feel about food as medicine. What are their beliefs? Their feelings? Their desires?
If they're truly prospects for this book, you've discovered a goldmine. But, what if they don't believe food has medicinal powers? There's still a lot to learn. Their objections to the idea may reveal something about their core complex that might relate to your best prospect's core complex.
Using these strategies, you'll come up with a beautifully detailed image of your prospect's core complex. You'll no longer feel restricted by the very limiting "fear and greed" approach.
I'll talk to you again next week.
Until then, keep studying. Keep reading. And most of all, keep writing.

The Professional Writers' Alliance
At last, a professional organization that caters to the needs of direct-response industry writers. Find out how membership can change the course of your career. Learn More »

Published: April 28, 2014