Secrets Every Smart Freelancer Should Know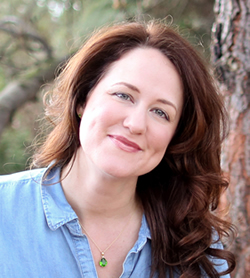 Hi, Julie Hassett here.
Let me ask you …
Have you envisioned your perfect day living the writer's life?
I certainly have. I did it almost every day for two years!
Then one day – just like that! – it was no longer only in my mind.
I told my bosses at the bank where I was working that my freelance business needed my undivided attention.
And two weeks later, there I stood … toting a cardboard box from my emptied-out desk (you know the one … with the plant, framed photos, coffee mug) to the elevator on the 17th floor.
I was bubbling over with nervous excitement as I pushed the down button for the last time.
I stepped into the same elevator where, nearly two years ago, I saw a brief newsflash on the TV monitor that said, "Copywriters make $100,000 a year working from home." It planted a seed in my mind. And now, there I was, harvesting my dreams.
With my heart racing and stifling the urge to high five everyone I passed, I stepped out into a brand-new world … as a writer.
The next day, I woke up and walked five feet to my new home office. No imagining anymore … it was now time to get down to business.
For you, that day may be closer than you think. The day you say a permanent good-bye to your commute … your boss … your 40-hour work week.
And when that day comes, I want to make sure you're as prepared as possible for those first few crucial weeks as a freelancer. Because your behaviors at the start will become your habits.
Those habits can make the difference between a career that skyrockets and one that sputters.
This week, I'll give you practical tips to get your writing, marketing and learning ducks all in a row.
You'll also learn how to easily manage your time, so you wake up every morning task-oriented and ready to be productive.
And I'll show you my favorite methods for picking yourself back up if a little anxiety or lack of focus starts to cloud your vision.
In fact, I want to share the first secret with you now …
I want to ask that you complete a very important task, so that you'll have it ready to go as soon as you make the transition into full-time freelancing.
I want you to draft a letter that you'll soon be sending to all your contacts announcing your career change. Here's what it should do:
Describe what you do
Briefly touch on the path you took to get there
Offer your services
Ask for referrals
Then, when you're ready to make the leap, you'll begin emailing that letter to five people on your contact list each day. If you have a mailing address for your business, you can also print the letter and send it along with three of your business cards.
As an example, have a look at the letter I drafted right here. Remember to personalize the beginning of each email or letter to get better engagement and a better response rate.
Dear ______________,
How are you?! What's new?
We've been out of touch for a while now (too long!) … but, I'm reaching out to let you know about a career change that officially happened for me this week (although it's been almost two years in the making).
After nearly eight years (with a year hiatus in Tennessee), Monday marked my last day at Wells Fargo. Over the last year and a half, I've built a freelance copywriting business in the evenings and on weekends. And even prior to that, I was learning the craft of copywriting.
I know a lot of people aren't clear exactly what I mean when I say "copywriting" – it's essentially the writing component of marketing. It's any kind of persuasive writing that gets the reader to do something or to simply know, like and trust you and your business.
Most of what I do is writing for the web (those pages where you read all the information you need to make a purchase or give your email address in exchange for a free book) and email marketing (the emails that come after you give your email address).
I also write E-newsletter articles, blogs and direct-mail copy for a number of clients.
I'm getting in touch with you just to make you aware of what I do. And, in the case that you or someone you know should need copywriting or marketing services, I can be contacted anytime for a chat.
My website is www.hassettcopy.com.
I hope you're doing well! Please be in touch. I'd love to hear an update from you also!
Best,
Julie
Tell me … when are you planning on making the leap? Did you already do it? Was it just like you expected? Leave me a note in the comments.
Tomorrow, we'll look at the "Three-Part Workday" structure that will cover all your business bases. And, I'll give you a tip that will ramp up your inspiration even when tackling tasks that might scare you a little … like marketing yourself!

The Professional Writers' Alliance
At last, a professional organization that caters to the needs of direct-response industry writers. Find out how membership can change the course of your career. Learn More »

Published: April 28, 2014