Steve Slaunwhite, B2B Marketing Expert, to Reveal Secret to Landing Clients at Upcoming B2B Copywriting Intensive
Clients are the lifeblood of any freelance writing business. And for new freelancers, landing that first paid project seems like a daunting task. But there are actually plenty of ways to boost your chances of catching the attention of potential clients and getting hired … even if you're a total newbie.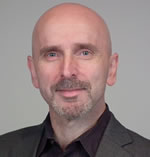 At the upcoming B2B Copywriting Intensive this June 1-4 in Phoenix, industry vet Steve Slaunwhite will focus on this key element of business-building during his presentation.
"A lot of people will be coming to the B2B Intensive, looking for their first client. But also, there's going to be people there that already have client experience, and are looking to get their next client. Or perhaps be on the road to higher-quality clients that pay more and have projects that are really enjoyable to work on," says Steve. "Regardless of whether you're starting out or moving up, that's what I'll be teaching the group to do."
Steve has written or consulted for companies like UPS, Sprint, Forbes, and many others over his 18 years in the business. But lately, he's been working with smaller companies, and acting as a teacher and mentor to up-and-coming freelancers through educational programs and events like the B2B Copywriting Intensive.
As far as kicking off a new career, beginning B2B copywriters often don't realize that they actually already have what they need to land clients, Steve explains. And a lack of a portfolio of real-world projects or experience is not an obstacle. He advises anyone with self-doubt to look within … and into the past … and look for reasons people would hire you.
"Let's say you're learning B2B copywriting and you set up your website, but you don't have a big portfolio yet. But you have 10 years' experience in the transportation industry. Marketing Directors of transportation and logistics companies are going to be very interested in talking to you because of that experience," notes Steve. "They're concerned about hiring copywriters who don't understand them and don't understand their products or services. You could be very valuable to that Marketing Director, even though you may be light when it comes to your writing portfolio."
And speaking of your portfolio, Steve says that one of your most important writing samples is completely within your power to create at any time.
"The first portfolio piece a client will read is your website. That's the first example of writing a client will encounter when they're checking you out," explains Steve. "So if your website is a study in effective B2B copywriting, then clients are going to be impressed by that. A lot of them will decide to at least talk to you further about a project, if not hire you."
An in-depth look at how to write an effective freelance website, as well as other ways to beef up a light portfolio like using practice writing exercises, will be a big part of Steve's presentation at the B2B Copywriting Intensive. Attendees at the event will also have the opportunity to work on several B2B copywriting exercises while at the event — under the direction of expert mentors like Steve. All could be potential additions to a portfolio.
Steve will be presenting a top-to-bottom plan for freelancers to kick-start their careers. He'll walk through, step-by-step, seven proven client-getting tactics, and then help attendees pick the ones that work best for them as far as their career goals and the types of clients they're trying to attract.
To find out more about the B2B Copywriting Intensive, and the other expert presenters who'll be there and they career-boosting strategies they'll be teaching, go here.
And to hear an exclusive interview with Steve in which he reveals several more client-getting secrets, just go here. Access is free for a limited time through AWAI's B2BWritingSuccess.com resource.

The Professional Writers' Alliance
At last, a professional organization that caters to the needs of direct-response industry writers. Find out how membership can change the course of your career. Learn More »

Published: April 5, 2014