The Writer's Life … Goes on the Road
The writer's life allows freelancers to enjoy freedom and flexibility in their new careers. But AWAI member Lane Sennett has taken that opportunity … and really run with it.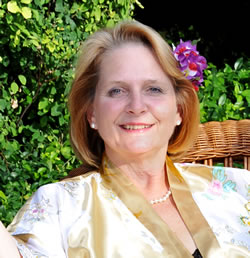 She and her husband live in an RV, traveling across the United States. He's a consultant to the energy industry. Lane is a B2B copywriter, which dovetails nicely with her past career as a long-time consultant in the IT industry, and similar roles during a 20-year career in the Navy.
"I primarily work with B2B technology and engineering businesses to help them improve their sales content and marketing," explains Lane. "Based on my background in IT, the challenges and issues faced by these companies are very familiar. My experience and knowledge of their industry definitely helps me easily find clients who trust me with their requirements."
Lane's husband's work requires that they move around pretty often. They're currently in Texas. But they've called Nevada, Florida, and California home over the last several years.
Throughout it all, Lane has managed to keep her own career going because as a freelance writer you can work with clients anywhere in the world … and it doesn't matter where you are either.
Lane works from her well-equipped home office — it just happens to be on wheels.
"Usually, I use two computers set up on a small built-in desk in the RV. I have a wireless printer on the floor behind my chair tucked into a corner," says Lane. "I use any available Wi-Fi at our location, and I have a Mi-Fi device from my cell phone provider as a backup."
Of course, the combination of the RV lifestyle and the writer's life means the couple has also had plenty of opportunity for fun in all the locations they've visited. Says Lane:
"We love Las Vegas because there is so much going on there, and the RV Parks are very nice. We also enjoy Napa, California. It is within an hour of the Bay Area for work meetings, and their county RV park is small, clean, and a hidden treasure! You can walk to downtown Napa and some of the best restaurants in the world."
Awesome, Lane! Great to hear you're representing the copywriting industry out on the road. And your story is a great example of what's possible with the writer's life.
Check out Lane Sennett's freelance website here: www.lanesennett.com.

The Professional Writers' Alliance
At last, a professional organization that caters to the needs of direct-response industry writers. Find out how membership can change the course of your career. Learn More »

Published: April 18, 2014