AWAI Events Prove to Be the Key to Success for this AWAI Member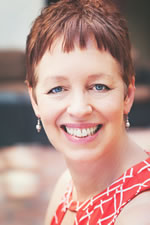 Although the regular "instruction" in Circle of Success has been tremendously valuable in helping Chris Allsop fine-tune her copywriting skills and direct-response strategies, this charter member of the COS program says that some of the "side" benefits of membership have paid off the most in her career.
"In my early stages, the COS online courses were great. They helped me to improve my copywriting skills, big-time. This was important because of the confidence it gave me. It got me started working with smaller and local clients," says Chris.
"As I progressed, I attended Bootcamp — for free, of course." [Editor's note: Free access to AWAI's FastTrack to Copywriting Success Bootcamp and Job Fair and any AWAI program are part of COS.]
"I built connections and landed more clients. Going to Bootcamp for free allowed me to invest money into AWAI's special events, such as Writing for Info Marketers with Dan Kennedy and The Makepeace Method for Making a Fortune Writing Video Sales Letters. Not to mention that I got a discount for these events as a COS member."
"These events really boosted my skills and my business. For example, Dan Kennedy referred a client to me after the Information Marketing event that made thousands of dollars for me. It really boosted my business, and I'm still working with them today."
It was another recent event that allowed Chris to snag her biggest project yet. She used skills she learned during that Clayton Makepeace conference to land a project during last year's Bootcamp. One of the 2013 Bootcamp Specs was an opportunity to work with Clayton's main client, a major financial publisher. Chris submitted her spec and was awarded a contract worth $12,500 plus royalties. And part of the deal was being mentored through the project by Clayton himself — which is priceless.
Chris specializes in the business opportunity and financial markets, with plenty of projects to keep her busy as she balances a job as a development officer for a university, not to mention family life. Throughout it all, she's happy with the way her writer's life has turned out so far.
"The most important thing I have learned is to never, ever give up," says Chris. "In addition to that, I've learned that there are probably as many ways to design a copywriting business as there are copywriters. You can tailor the writer's life to suit your dream, and when you're ready to change that dream, you can do it. You have the flexibility."
To learn more about Circle of Success, click here.

The Professional Writers' Alliance
At last, a professional organization that caters to the needs of direct-response industry writers. Find out how membership can change the course of your career. Learn More »

Published: May 12, 2014