Circle of Success Instructor Enjoys Sharing in Members' Achievements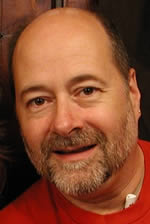 Malcolm Smith has been a freelance direct-response copywriter since 2004, discovering this career much as many AWAI members do: through The Accelerated Program for Six-Figure Copywriting. His preferred niche is the alternative health market, with clients such as Dr. Al Sears, Best Life Herbals, Discovery Health Publishing, the Healthy Back Institute, the UniScience Group, and others.
But more recently, he's decided to give back to the copywriting community, so to speak, as an expert instructor in AWAI's Circle of Success (COS) program.
In fact, he's been with COS since its inception several years ago. He developed the Getting and Keeping Clients section of the program and leads it a couple of times a year, as he does with the section on Headlines. Being involved so intimately with COS, he's really noticed how valuable it is to members.
"I'm a little jealous COS wasn't available when I was getting started as a copywriter. It offers new copywriters three significant advantages," says Malcolm. "First, the Intensives compress the essence of four keys to success into 12 weeks (each) of focused training. Any one of them takes an average copywriter years to master on their own. COS members wind up with salable skills in a remarkably short time."
"Second, with COS membership, you can build an entire copy library for relative peanuts. If you're serious about continuously improving your skills (and earning power), it's a bargain."
"Finally, you have connections. COS members have a dedicated liaison at AWAI. Special COS-only sessions at Bootcamp. And, of course, opportunities to connect with working pros and have them review their work. Plus, they have other COS members. The mutual support I've seen has been fantastic."
As Malcolm continues to work on his own copywriting business, he still relishes working with up-and-comers. And he's really seen them shine as they go through the Circle of Success program.
"On a purely selfish level, I really enjoy working with excited, motivated folks … and seeing them develop into successful copywriters. For instance, in our last Getting and Keeping Clients group, one member apologized a couple of times for missing live sessions," recounts Malcolm. "He was so busy doing client work, he couldn't make the scheduled time. So he had to listen to the recordings. I've seen quite a few COS members working pretty steadily before they're done with the program."
To learn more about Circle of Success, click here.

The Professional Writers' Alliance
At last, a professional organization that caters to the needs of direct-response industry writers. Find out how membership can change the course of your career. Learn More »

Published: May 18, 2014