Video:


June Great Books Club Selection:
How to Win Friends & Influence People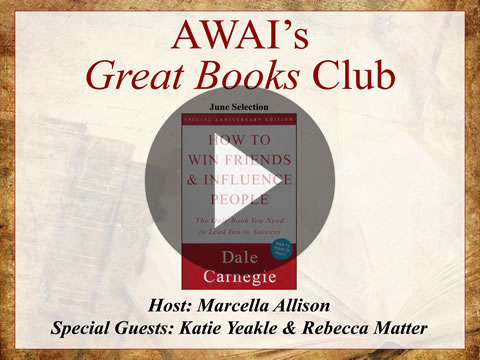 Audio Only (right-click to save) Slides Only
Our first selection for the Great Books Club is Dale Carnegie's How to Win Friends & Influence People.
As Dale himself puts it in the introduction:
If by the time you have finished reading the first three chapters of this book — if you aren't then a little better equipped to meet life's situations, then I shall consider this book to be a total failure so far as you are concerned. For 'the great aim of education' said Herbert Spencer, 'is not knowledge but action.'

And this is an action book.
This is one of my all-time favorites and it's also a favorite of our Great Books Club moderator, "A"-list copywriter Marcella Allison.
I'm excited to re-read How to Win Friends … because it works on two levels. The first level is the actual copy itself is super compelling. It's written in an incredibly persuasive style and can teach any writer a great deal about how to write conversationally compelling and motivating copy.

And on the 'meta' level, it's a great lesson for any writer about how to improve their networking skills. This comes easy to those of us who are natural extroverts, but it can be a challenge for introverts …

And then, of course, I've always loved this book ever since I first heard Mark Ford tell the story of attending the Dale Carnegie course and launching his career. If that's not proof that this book alone can create millionaire copywriters, I don't know what is!
– Marcella Allison
Copywriter and Host of AWAI's Great Books Club

The Professional Writers' Alliance
At last, a professional organization that caters to the needs of direct-response industry writers. Find out how membership can change the course of your career. Learn More »

Published: May 20, 2014