Map Your Content Marketing Strategy

The big push toward content marketing is just getting started.
It's driven in large part because of the rise of social media and changes in Search Engine Optimization (SEO). The way to grow with these simultaneous trends is with good, useful, relevant content.
You're nodding your head because you know that. You've heard it before, lots of times. But before you decide you've heard it all, stick with me for a minute …
Right now, there are two types of content marketing campaigns.
Those that are working brilliantly.
And those that aren't working at all.
The measure of a good content marketing campaign isn't how much content you're producing. It's what's happening because of your content.
Many companies approach content marketing like so many people approached websites early on, and then later blogs … if we build it, people will come, right?
Wrong.
Content marketing is a complex strategy with a lot of things to consider. It can be confusing, overwhelming, and ultimately frustrating.
But with a well-defined purpose and a clear plan, you can put yourself among the brilliant content marketers who are winning brand loyalty among their target audience, getting noticed by media influencers, and growing their bottom line as a result.
What you need to move forward like that is a map. Specifically, a content marketing map.
Take the "Scramble" Out of Your Content Marketing Strategy
Producing content, willy-nilly, on any topic that comes to mind or on any keyword that pops up is like throwing spaghetti at a wall. Some things may stick, but it's messy and it wastes a lot of good pasta.
When you treat your content strategy like that, you miss a lot.
You may be missing segments of your audience.
You might be overlooking multi-media options.
You might omit important distribution channels.
Building a map going forward can help you see what you might be missing so you can take advantage of new opportunities. And it will make content marketing less stressful — it'll take the scramble out of your strategy.
Sections of Your Content Marketing Strategy Map
So, let's look at how you can take a more purposeful approach.
A good content marketing strategy has something for every segment of your audience.
And, it has content to appeal to people at different buying stages, too.
A healthy strategy will include a mix of media. From blog posts to social updates to video to podcasts to webinars to white papers … the list of possibilities goes on.
You'll also bring your content to your audience in a variety of ways. Some distribution options include:
Through your own site.
As a guest blogger on other sites.
Through video channels.
Through social media.
Even through paid marketing campaigns.
Of course, no content strategy would be complete without a thorough understanding of how your audience searches for your content.
But there's even more to it …
Successful content marketing strategies are built on the mission to serve your audience. You need to determine your overall purpose and align it with the needs of your audience.
And, your content marketing strategy does not work in a vacuum. You need to become an influencer in your industry … or at least begin engaging with them.
You should use all these factors in developing your content marketing map.
Digging Deeper into Your Content Map
The easiest way to map your content is to use an actual mind map. My favorite tool for mind mapping at the moment is Coggle It.
Let's look at each segment a little closer. Then we can put it altogether into an actual content map using Coggle It. And finally, you can use your map to develop an Editorial Calendar for your content marketing strategy.
To make this work, we need an example. So, let's say you're developing a content strategy for a child-safety company. The company offers a variety of products for children's safety. It sells publications on the topic. And it also offers in-house and event consultations — they'll come in and baby-proof your home or volunteer with the local fire department to do free car-seat checks, for example.
Audience Segments: The first part of your map should include Audience Personas. Remember, you want something for every segment of your audience … The new parent. The concerned parent. The seasoned parent. The parent who has a child entering the teen years (digital safety is big!). What kinds of content would appeal to each segment and every potential Audience Persona?
Buying Stages: You need content for parents who are just looking, those who are in the serious research phase, those who are comparing vendors, those who are comparing product specs, and those who are ready to buy. (For a look at how complex buying-stage content marketing can be, take a look at this infographic from Oracle. It's excellent.)
Media Mix: Successful content marketers go way past blog content. Think video. Slide shows. Infographics. Case studies. Podcasts. Social media. Photos. Reports. Tutorials. Webinars. Checklists. Surveys. Try to get at least four types of media in your mix to start out.
Distribution: How are you going to connect with your audience? Will you share on social media? (Yes!) Will you set up a YouTube channel? (Maybe … ) Will you write for trade publications, do press releases, be available for interviews, set up a PPC campaign? Any mix of media is fine, but no content marketing strategy is complete without a distribution plan.
Mission: As part of your map, clearly define the mission behind your content marketing strategy. HUGE Hint: Make your mission user-centric. There is no point in trying to force-feed anyone content that you think they need. To succeed, you must deliver content they want.
Curation and Outside Engagement: Who else's content will you deliver to your audience? Remember, a vacuum doesn't work. Start developing relationships with influencers by bringing their content to the attention of your audience. Your audience will appreciate it — and it will open distribution doors for you.
Whew … that's a lot to consider. But don't worry. It'll come together.
So, let's map it …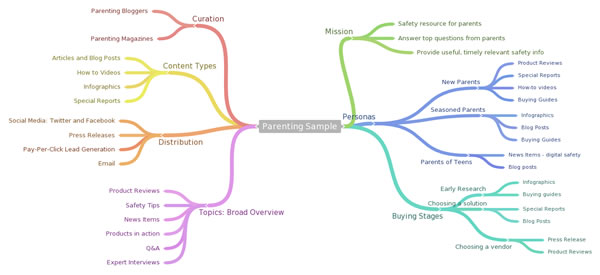 To see a bigger version, click here.
Once you have a map in front of you, you can begin to see a strategy forming.
Based on this map, you would focus resources on developing articles and blog posts, how-to videos, infographics, and special reports (including buying guides).
For example, you would develop product reviews, special reports, how-to videos, and buying guides to serve your "new parent" audience; infographics, blog posts, and buying guides to serve your "seasoned parent" audience; and news items and blog posts to serve your "parents of teens" audience. You would take into consideration the buying stage each piece of content is created for.
And based on the map, you also know where to start looking for influencers to engage with, whose content you'll share, and who you'll share your content with. You also know where to focus your efforts on getting your content seen once it's created.
Turn Your Map into an Action-Oriented Plan
The next step is to consider how often you want to create content of each type and what balance of content is going to be directed at each audience segment.
After you do that, you can create a schedule. It might go something like this:
Immediate Needs: Car Seat Buying Guide; Safety Gear Infographic for Kids' Sports; Child-Proofing Special Report
Blog Posts: Three Times Per Week
Mondays: Monthly Theme; Curated Content
Wednesday: Product Reviews and Expert Interviews
Fridays: Targeted to specific Segment
How-to Videos: One each week (50% new parents, 20% seasoned parents, 30% parents of teens)
Infographics and Special Reports: One of each, monthly
From a simple content mind map, you now have a comprehensive plan to develop content appealing to each segment of your audience — one that incorporates a variety of media, and that engages influencers by inviting them on as experts and by sharing their content. And you have a schedule, so you know where to focus and what you need when.
From there, it's just a simple matter of choosing your topics.
When you map your content strategy first, you can create a content marketing plan that will work to build a full and rewarding experience for your audience … an experience that will build your reputation and solidify trust. And that will pay off in increased acquisitions and longer customer or client lifespan.
Two Final Notes
You can do two more things to make sure your content marketing strategy is as effective as possible.
Repurpose content: Whenever you develop a special report, an infographic, or one of your bigger pieces of content, look for three to five other ways you could use that content. You might be able to develop a how-to video series from the information you put into a special report. An infographic could also be a series of quick tips and a blog post. Different people prefer different media, so by offering your audience different ways to consume your content, you'll be getting the most mileage from your work while doing a service for your readers.
Healthy SEO: Make your content easy for search engines to find by giving each piece of content a narrow focus, and by including a primary key phrase in the title and description for the piece. For more on Search Engine Optimization, go here.
Content marketing is a complex process. But if you take the time to map out what you need and who you need it for, you'll be in a much stronger position to create content that will deliver the results you're after for you and for your client.
This article, Map Your Content Marketing Strategy, was originally published by Wealthy Web Writer.

The Professional Writers' Alliance
At last, a professional organization that caters to the needs of direct-response industry writers. Find out how membership can change the course of your career. Learn More »

Published: May 14, 2014