Your Personal Road Trip to Success

June, 1975.
One of my earliest memories begins in the back seat of a brown Datsun.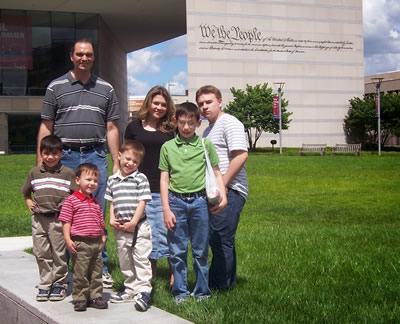 For three days, the Datsun's back seat became my new home. I colored pictures, slept and spent hours dissecting a dead bee to pass the time.
And I'd watch. Over time, the scenery gradually changed from the urban sprawl of western New York to rolling plains and eventually to the towering Rocky Mountains.
I'll never forget the mix of excitement and fear as we climbed a narrow dirt road without guardrails high up the side of a mountain in Idaho. At least until the snow became too deep for our little car to make it any higher.
Road trips have become the anchors of many milestones over the years.
My solo bicycle trek from the mountains of North Carolina to the Atlantic Ocean as an 18-year-old marking adulthood …
Taking my young family on a 30-day around-the-country sightseeing trip from New Hampshire to New Mexico and back …
And 1,000-mile jaunts to Florida and back every year for AWAI's Bootcamp and family visits.
One thing I've discovered. The best road trips aren't the ones where the focus remains solely on the destination. Instead, the greatest joy is in the journey.
Like a ride up a snowy mountain in the midst of summer vacation …
Happening across a roadside sign pointing to President Lincoln's boyhood home and taking an impromptu tour …
Or, pulling up to an unexpected T in the road and relishing the freedom to choose whichever direction I want to travel next.
Living the writer's life is similar.
Yes, set goals. Plan your destination.
Just remember to take pleasure in the journey.
It took me three years before I felt I had finally reached the writer's life.
Only I was wrong. I understand now the writer's life isn't about the destination. It's about the journey.
Looking back, I realize I've had many successes along the way. My first client. My first control. My first time getting a client to the top of the Google search page. I may not have been full-time yet, but I was already living the writer's life.
Later, it became my safety net. I smiled all the way home the day I was laid off. I realized I had simply fulfilled my dream of writing full-time, and I've never looked back.
And, for me, the writer's life keeps getting better.
Today, the writer's life is about having more time with my family. It's the 10-second commute to my home office. It's about extending my vacation without having to ask a boss.
It's about actually being there to help – for six months – as my mother-in-law battled cancer in a distant state.
That's what the writer's life means to me.
What does the writer's life mean to you? How has it impacted your life already?
Take a moment to reflect on why you turned down this road in the first place. What revs your engine? Be sure to let me know in the comments.
This week I'll share some of the insights I've learned along my own journey to copywriting success … like how to map your trip and fuel your tank to reach your goals faster. And most importantly, how to appreciate every mile of your journey.
Because living the writer's life starts today. Right now. Not when you reach your next goal.
Talk to you tomorrow!

The Professional Writers' Alliance
At last, a professional organization that caters to the needs of direct-response industry writers. Find out how membership can change the course of your career. Learn More »

Published: May 5, 2014