Live: The Barefoot Writer June Issue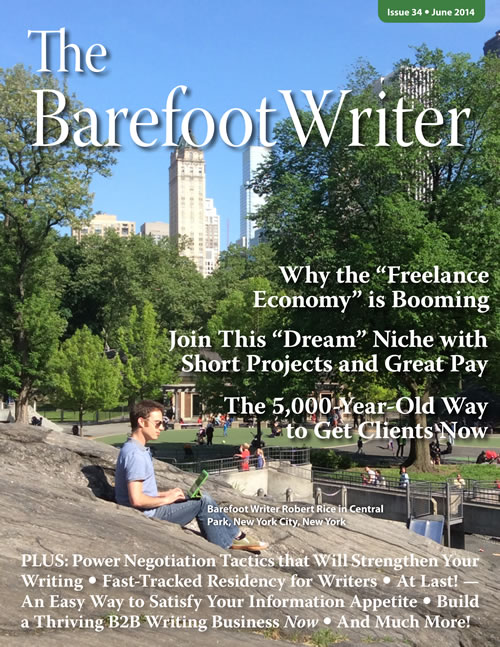 Did you know about 14 million people are self-employed in the U.S. alone? According to the Bureau of Labor Statistics, that number is growing.
This is welcome news if you're the kind of person who wants to live life on your terms and still enjoy a healthy income. It's proof the world now accommodates freelancers in ways many of us never imagined.
It also helps explain why freelance writing is a more viable career option than ever before.
These days, it's just a matter of deciding what you want to do as a writer — and then doing it.
We've pledged to start you in the right direction. So, this month we tell you:
Where to find an avalanche of writing support that helps your business grow
A time-saving tip to satisfy your appetite for information
Why a preposterous offer can sometimes make a sale and satisfy your customer
How to get more control and have clear direction when it comes to self-marketing
Plus, you'll get hard details on a niche that doesn't have a lot of writers but is overflowing with hungry clients willing to pay the big bucks.
Click here now to read your June issue of The Barefoot Writer.
Not a subscriber yet? Click here to learn more about becoming a member of The Barefoot Writer and start living the lifestyle you want by writing.

The Professional Writers' Alliance
At last, a professional organization that caters to the needs of direct-response industry writers. Find out how membership can change the course of your career. Learn More »

Published: June 6, 2014