Looking for "Love" in all the Wrong Places …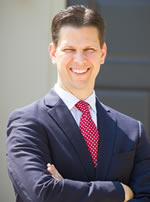 Sooooo … Rebecca tells me you want to know where all the high-paying clients are hiding out.
Right?
You might think I'm crazy (and I wouldn't disagree with you!), but I really love this part of the copywriting business … the part where I get to use all my persuasive copywriting skills and strategies to attract and close high-paying clients.
It's loads of fun! Especially if you know how to do it effectively.
I can tell you with all modesty I'm one of the best in the business at attracting, closing and up-selling clients.
But, I'm not bragging … the only reason I rock at all this is because I shamelessly stole almost all my best tricks from Bob Bly. It all began at his exclusive "Getting Clients" weekend event back in 2005.
So, to give credit where credit is due … "Thanks Bob! It's a wonderful life!"
Over the next few days, I'm going to open up my marketing brain and give you the five key ingredients of a really powerful strategy for attracting great clients.
Each ingredient builds on the previous one. It's like a recipe for sinfully delicious chocolate silk cake. Use all five ingredients in the right order and you'll bake the blue-ribbon dessert.
Today, I'll give you ingredient #1 and show you how to use it.
Now, down to business …
The Letter
Take out a piece paper and pick up a pen.
I want you to write a letter for me.
To write this letter, what's the first thing you need to know?
"I need to know to whom I'm writing the letter, Joshua. I can't just write a letter to no one!"
That's a very good answer.
And, you're right. You can't write a letter to no one. You have to address it to someone!
Congratulations!! You just learned the first and most important aspect of attracting and closing high-paying clients.
Ingredient #1: Know Your Target Audience.
It's so simple, isn't it?
But, when most new copywriters ask me, "How do I get clients?" …
And I say, "Hummm … well, first, can you describe your client to me?" …
They stare at me like I was daft.
They usually respond with something like, "Anyone that needs copywriting. I don't care, as long as they pay me."
Bad answer!
That's like trying to write a letter to no one. It doesn't work!
The question in your mind should now be, "Well, who should I write for?"
The Litmus Test
If you haven't yet chosen your niche, let me give you a very simple litmus test for finding high-demand markets.
It's called Google.
Pull up Google and type in a search term for a specific market you think you might be interested in. Don't worry about how many search results pull up, instead look at how many ads come up.
For example, if I search for the phrase "Investment Newsletter," I get 11 ads … three across the top above the search results and eight down the right-hand side.
Eleven is the max number of ads Google allows, so this is a good sign. This is a healthy, robust market. And, if the ads are backed by nice-looking sites that appear to be making money by selling stuff, then all the better.
You see, people use Google when they have an "itch." In other words, they have an immediate, pressing problem and want to find a solution NOW. This is great for direct marketers who are looking to fill that need.
Once you've identified a product or service on Google with a good deal of advertising, you'll know that's an area where your most profitable potential clients are spending a lot of their time. And you'll know what's important to them and their customers.
With this information in mind, you can start to picture who you're writing your letter to. And you can begin to define specific plans for grabbing their attention and getting them to hire you to write their copy.
So, your assignment for today is to search for your niche/industry on Google and see what kinds of ads come up. You might need to research three or four before you hit the jackpot … but it's worth it.
Then, decide how to start your letter:
"Dear _________"
Fill in the blank!
Tomorrow, I'll give you Ingredient #2.

The Professional Writers' Alliance
At last, a professional organization that caters to the needs of direct-response industry writers. Find out how membership can change the course of your career. Learn More »

Published: June 9, 2014