33+ Paid Web-Writing Opportunities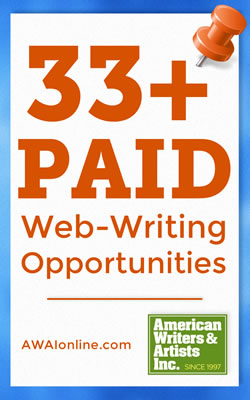 As web writers, it seems that free or "for exposure" writing gigs have no problem finding us …
And, while these gigs can be a great way to get your feet wet in web writing, market your services, and build confidence to start charging … the goal is to get paid gigs and make a great living as a web writer … right?
Don't be discouraged by companies that approach you, wanting you to work for free … Instead, know that there are plenty of paying gigs available. You just have to know how to find them.
Here are a few places to start:
#1. Guest Blog Posts
Even though I've been writing for a while, guest blog posts are still one of my favorite ways to pick up projects …
It's low risk for a business owner or website editor to give you a try.
You can write about your passions and interests.
Every time one of your posts gets published, you get more exposure for your services. Over time, you can have a full schedule just from people reading your guest blog posts and wanting similar content for their own business.
While there are tons of blogs that would love to get free content, many websites are willing to pay for guest blog posts. Take, for instance, my husband, Nick's, chosen niche: the Emergency Preparedness niche.
Just in this one niche, there are dozens of different topics that need to be covered … first aid, food storage, solar and wind power, water collection, and self-defense just to name a few …
No one person can be the expert on all of these topics. Plus, the editors who manage the websites can't possibly create all the content themselves. That's where the need to hire you comes in!
So, how do you find these opportunities?
Start by visiting your favorite blogs — specifically ones in your niche — that use guest writers.
Often these websites will include a link in their navigation that says something like, "Want to write for us?" Other times, they may have information for guest post submissions on their contact page.
Here are a few examples:
This page — from Ryan Deiss's SurvivalLife.com — tells you everything you need to know to write for them.
Here's another example in the web design niche.
Here's one more — this time from the personal development niche.
Find other paying gigs like this by searching for "write for us" combined with your niche. I also found some great results by searching for "write for us and get paid."
Here are 10 other paid opportunities I found just by searching:
Guest blog posts may not be the best-paying web-writing gigs, but they're great for supplemental income, getting your first projects, marketing your business, and practicing your skills.
For more advice on landing these gigs, be sure to read, How to Grow Your Business and Establish Your Brand Through Guest Blogging.
#2. WWW Job Opportunities
Wealthy Web Writer's own Job Opportunities section is a great place to find paid web-writing opportunities. If you haven't checked it out yet, be sure to do so.
Even if you can't find a gig in your niche today, check back tomorrow because job postings are consistently being added. Here's a sample of the kinds of projects on the job board:

There are also many job boards outside Wealthy Web Writer. Here are just a few to check out:
#3. Elance.com
Elance — and similar job sites — are often overlooked because writers think they're full of low-paying gigs … And it's true. You can find plenty of low-paying jobs. But, there are also plenty of good-paying jobs to apply for. Just be discerning.
Plus, Elance is a great way to meet people who hire writers often. Impress them with a project through Elance and there's a good chance they'll hire you directly and send you referrals.
Elance currently has:
451 web-writing jobs posted
265 copywriting jobs posted
582 article writing jobs
243 e-book and blog writing jobs
And many more assorted writing jobs
That's over 2,000 possible writing jobs!
Remember to use everything you learned about writing and marketing when applying for these jobs. Plus, here are a few other tips:
Tell the potential client what's in it for them.
Take a few extra minutes to customize your proposals.
If your price is higher than the other bids, make sure you explain the benefits of choosing you.
If you haven't yet, go ahead and make an account at Elance.com. You might be surprised at the amount of quality work on there. For example, here's a current copywriting gig that looks promising: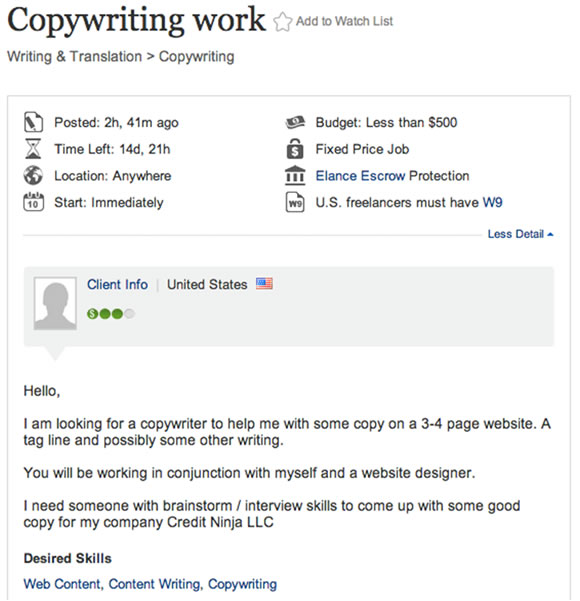 Sites that are similar to Elance.com are:
Here are a few writer-specific sites:
Additionally, write.com appears to be full of paid writing projects … but I haven't used this site, so I can't vouch for it.
#4. Social Media
Social media sites like Twitter, Facebook, and LinkedIn are great for finding clients and paid gigs …
First, you'll want to make sure your bios make it clear that you're available for hire. That way, you can attract clients to you.
Then, in many cases, business owners and blog managers will post that they're looking for writers. You can use the social media's search function to find these opportunities.
Try searching for topics like "freelance web writer wanted" or "freelance writer needed."
Here's what happened when I searched for "freelance web writer wanted" on Twitter: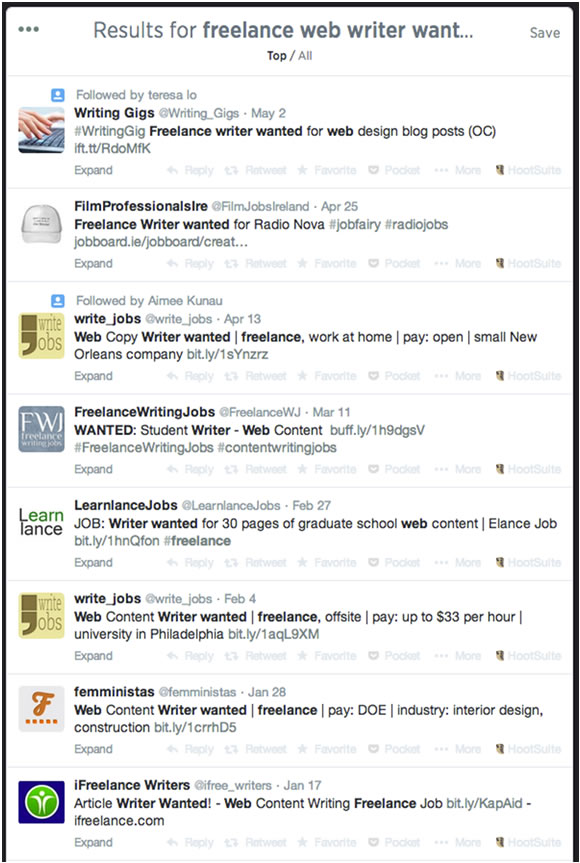 LinkedIn is another great place to find web-writing opportunities. They even have a job board.
So, there you have it, 33+ resources to find paid web-writing gigs!
Did I leave anything out? Let me know in the comments below.
This article, 33+ Paid Web-Writing Opportunities, was originally published by Wealthy Web Writer.

The Professional Writers' Alliance
At last, a professional organization that caters to the needs of direct-response industry writers. Find out how membership can change the course of your career. Learn More »

Published: June 18, 2014