Too Much Information!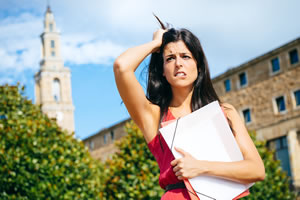 You pull into a new town, fill up with gas, and decide to stop for dinner. You ask a local where a good place to eat would be. "The Dogwood Diner," he tells you. He describes the cuisine. The homestyle cooking sounds delightful. He tells you it's a favorite with the locals, and the tourists who discover it rave.
To top it all off, the prices are reasonable. The only question is how to get there.
You ask for directions. He says, "It's easy to get to. You just go down Main Street here three blocks. You make a right at the closed movie theater. Too bad it's closed. It was a great place for our kids to hang out. Then you go about a mile, mile and a half until you get to Fred Sampson's house. It's blue with white trim. Kind of faded. It's bound to be full of toys and bikes and stuff like that …"
He goes on like that for a couple minutes. What do you do?
You thank him. Climb back into your car with your family. You drive those three blocks down and make the right turn past the closed movie theater. Then you circle around and get back on the freeway and look for the nearest fast food restaurant to feed your kids.
What happened here? Plain and simple, you got flooded by too much information.
This happens all the time in copywriting.
Let's say a potential buyer — your prospect — reads a promotion for a natural supplement he found one day in his mailbox. This product increases energy. That's good. His energy's been flagging as he's gotten older. It promotes weight loss. That sounds good, too. Not only that, it gives skin a smooth, youthful look. Our prospect is a rugged guy, so that's not so important. It even reverses thinning hair. That's not important. Mr. Prospect has a lion's mane of gray hair. And it strengthens fingernails. "Who cares?" he thinks. "Maybe my wife. But not me."
Getting deeper and deeper into the morass …
This copywriter is no dummy. He knows he can't just say something and expect his prospect to believe it. So for each of the benefits, he provides proof. The copy is getting more and more convoluted, more confusing, and harder to follow.
Faced with the chore of wading through the complex, confusing copy, the prospect does pretty much the same thing the confused driver did. He tosses the letter into the wastebasket.
This example may seem a little bit extreme. But I've seen a lot of copy that comes pretty close to this.
If you're writing about a product with multiple benefits, it's tempting to try to wow your prospect with all of them. And that's a huge mistake!
Mark Morgan Ford's research into what works …
Roughly 10 years ago, while he was researching successful and unsuccessful promotions, Mark Morgan Ford noticed this tendency in failed copy. From his research, he developed the Rule of One.
Here's his concise summary of the Rule of One …
"To create blockbuster promotions time after time, you must understand the difference between good copy and great copy. The Rule of One is the driving force behind great copy."
Simply stated, the Rule of One means you use just one main idea to build your promotion around. But there's more to the Rule than using only one big, central idea.
According to Mark, it's fully engaging copy with four necessary pieces. To use the Rule of One, your writing must have …
One – and only one – powerful idea: This one idea must be strong enough to grab your prospect's attention and compel him into your writing.
One – and only one – core emotion: The powerful idea must stir a single emotion that already exists in your prospect.
One single, desirable benefit: Lead with one, single desirable benefit that touches the prospect's core complex. If it doesn't touch the prospect's core complex, it isn't a real benefit to him.
One inevitable response: Direct the reader to one inevitable action. (That action is to respond. It's not a violation of the Rule of One to provide different ways to respond.)
A driving force behind the most successful ads …
You can see the Rule of One at work in some of the most successful advertisements of all time.
Coca-Cola built a hugely successful advertising campaign around the slogan, "The Pause That Refreshes." When that slogan grew stale, they later switched to "Always Cool."
Notice how each one gives a very clear picture of one core benefit. This focus would have faded if they'd used something like, "The pause that refreshes … and always cool."
Here are some headlines from Eugene Schwartz's most successful ads …
Overcome the Body Chemical that Keeps You Fat!
Do You Have the Courage to Earn Half a Million Dollars a Year?
How to Give Your Child the Top Grades in School He Deserves
Each one of those headlines expresses one and only one central, driving idea. And, if you read the entire ad, you'd see that Schwartz stuck with that one idea all the way through and didn't bring in competing ideas.
Veteran advertising consultant James Loftus has worked with Anheuser-Busch, Holiday Inn, McDonald's, and many other clients. He agrees with the Rule of One:
" … keep in mind that the more points you try to cover, the less effective each point, and therefore your ad, will be. An effective ad will actually have only one central focus, even if you discuss it from two or three perspectives. If your points are too diverse, they compete with each other, and end up pulling the reader's attention in separate directions."
Much easier said …
As successful copywriters, we work hard researching, gathering data, compiling benefits, and writing. We want to showcase our efforts.
But give your prospect a break. Make it easy for him to see the one idea that will bring him into the promotion. Let him feel the one strong, compelling emotion that will carry him through to the end. Let him see clearly the one action he must take to make his life better.
Your writing is not about you and how hard you worked. It's not about showcasing the numerous benefits you've uncovered. It's about convincing your prospect to take that one, inevitable action.
In several weeks I'm going to pass on a strategy to help you follow the Rule of One. I'm not going to do it today because …
… well, for two reasons. First, I've run out of room. And second, if I did so, I'd be violating the Rule of One.
Until next week, keep writing!

The Professional Writers' Alliance
At last, a professional organization that caters to the needs of direct-response industry writers. Find out how membership can change the course of your career. Learn More »

Published: June 30, 2014