Video:


August Great Books Club Selection:
Ogilvy on Advertising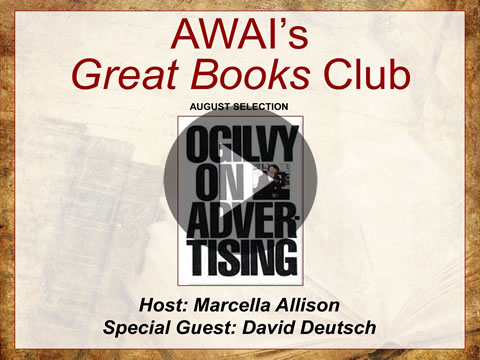 Audio Only (right-click to save) Slides Only
David Ogilvy's name looms large in the copywriting world. Responsible for some of the classic campaigns and ads of the industry, including "The man in the Hathaway shirt," he went on to found one of the largest advertising firms in the world.
AWAI's Great Books Club host Marcella Allison will be discussing Ogilvy on Advertising – a MUST-READ for all copywriters – with none other than Master Copywriter David Deutsch.
You may not know this, but David has a personal connection to Ogilvy …
"I lucked out when the first job I landed in advertising was with Ogilvy & Mather on Madison Avenue in New York City," says David, "where I came under the influence of one of the true giants of advertising and persuasive writing.

"But you don't have to be an Ogilvy alumni to benefit from his wisdom and brilliance.

"Fortunately, Ogilvy revealed his secrets in his books, especially Ogilvy on Advertising, where not only does he clearly spell out the 'how tos' of selling through the power of words and pictures, but exemplifies it in the clarity, charm, persuasiveness, and salesmanship of the book itself."
(What is Ogilvy selling? You'll find out on the call.)
David says, "If you haven't read and studied Ogilvy on Advertising, you are flying blind."

The Professional Writers' Alliance
At last, a professional organization that caters to the needs of direct-response industry writers. Find out how membership can change the course of your career. Learn More »

Published: July 18, 2014