Spec Assignment Sets this AWAI Member's New Career in Motion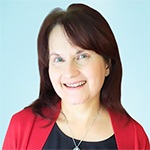 After a long hiatus from the working world due to caring for her ill father, Elizabeth Blessing has recently taken up copywriting. And she just landed her first-ever direct-response job!
Elizabeth, a Circle of Success member, specializes in video marketing and health copywriting. And being in COS was key to her breakthrough. COS members receive free access to all AWAI programs. And, because Elizabeth has spent her life caring for disabled family members, the Secrets of Writing for the Health Market program resonated strongly with her.
"The program includes several spec challenges, and one of those was for a pain relief product for the Healthy Back Institute. I simply went through the health copywriting program step-by-step and applied what I was learning to complete the spec challenge," says Elizabeth. "When I was done, I wanted to submit my copy to the client, but I wasn't quite sure if my headline was strong enough."
Luckily, useful feedback was easy to come by – again thanks to Circle of Success.
"I had joined a Peer Review group consisting of some members from my COS copywriting group. We meet online once a week to review each other's headlines using the Peer Review system we learned through COS," says Elizabeth. "We also discuss what projects we're working on and offer each other support on our copywriting journeys. The group made some great suggestions, which helped me create a stronger headline."
Elizabeth then sent in her spec and, after again using COS resources to put together a portfolio and a contract … got the job! She's written the letter and is now working with the client, The Healthy Back Institute, on edits before it's mailed out.
"I feel absolutely fabulous! I'm more motivated than ever to make direct-response copywriting my new career!" says Elizabeth. "I still have a long way to go to achieve my copywriting goals, but I'm heartened to see these positive results at such an early stage."
More spec assignments are in store for the future. Elizabeth also plans to start work on her first video sales letter, a skill she picked up in Clayton Makepeace's AWAI program, The Makepeace Method for Making a Fortune Writing Video Sales Letters. The video ties in nicely with one of her other services: showing clients how they can use videos on YouTube to market their products and services.
Way to go, Elizabeth! You've made a lot of progress in a short period. And keep submitting those specs – they really work.
You can find out more about Elizabeth Blessing at www.GroovyVideos.com.

The Professional Writers' Alliance
At last, a professional organization that caters to the needs of direct-response industry writers. Find out how membership can change the course of your career. Learn More »

Published: July 17, 2014