Audio Interview:


How Carline Anglade-Cole Consistently Creates Controls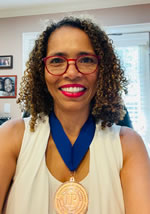 Carline Anglade Cole's first assignment as a freelancer was to write a package for a male-potency product. They were desperately looking for a black male copywriter; and she, whose background is "half-black and half-German" desperately needed her first gig.
So, she convinced them to give it to her. And she ended up creating a winning control.
This was just the tip of the iceberg for Carline. She's gone on to create countless controls for almost every client she works with.
A protégé of Clayton Makepeace, with an incredible personality and style of her own, Carline spoke with AWAI recently about her history and success as a copywriter.
She started out in an agency, working for years in the marketing department for a successful health newsletter. When she ultimately wanted more time to spend with her family, she decided to take the plunge into freelancing. And she hasn't turned back since.
Today I'll be sharing five of her biggest secrets to consistently creating blockbuster controls — strategies and lessons you can immediately apply to your own writing to start generating more income faster.
It Doesn't Matter Who You Are
How does a young woman who doesn't suffer from "potency issues" and whose husband can't help out "because he doesn't have that problem" go onto write a blockbuster control for a male-potency product?
Carline explains, "I'm in my late 20s, early 30s writing copy, and I couldn't relate to a lot of the problems that people were having, you know? I didn't have low energy. I didn't have arthritis. I didn't have heart disease. That wasn't me. I wasn't the market. So I had to quickly find somebody that I could talk to.
The great lesson I learned very quickly is that it doesn't matter who you are; it matters that you connect with who you're talking to. I was able to beat a male copywriter who had written the previous control."
As it turns out, you'd be quite surprised just who might be writing your favorite copy …
"I found out that the most successful copywriter at that time, who wrote for Essence Magazine, which was for 'today's black woman', was a white 50-year-old man and he was beating everybody out because he connected to the marketplace."
Write to Someone You Know Personally
Many copywriters write to an entire demographic – men in their 50s, women with empty nest syndrome, etc. Carline takes this concept a step further, finding one person she knows very well and writing the whole letter to him.
Carline says, "Fortunately, my father-in-law was my best muse, as you say, because he was right there in the market. He was in his 60s. He's a male and he was having some of these issues.
His name is Melvin. So whenever I had a chance to write a package, I would always start the letter going 'dear Melvin.'
I know he hates getting up in the morning, and he's got to sit up first before he can even stand up because his knees are hurting him. Or, it takes him ten minutes to make it to the bathroom just because his joints have not loosened up yet. His arms and his fingers are stiff.
So, I would just talk to him, dropping little words and phrases that make the reader go 'Yeah, you know me. Yes, that's who I am. That's what I've got.'"
The Power of Focus Groups
If Carline didn't know someone personally in her target demographic, she always made a point to find someone right away. Or, in many cases, a group of people.
"I'd invite maybe ten women over to my house who were in the age group that I was looking for who had issues I was writing about. I'd invite them over for dinner and say, 'Listen, I just want to feed you and talk with you.'
And I'd tell them what I was doing. I'd say, 'I'm working on this project and I just want to understand what it is.'
I never recorded any of those sessions because it wasn't really about every single word. For me it was more of picking up the feeling of what they were going through and maybe catching a couple of phrases I heard them using a lot and just get into the emotion of what was going on.
That would help me when I was writing the copy to go, 'Okay, this is who I'm talking to. This is what their experience is. When they found out they had cancer, this is what they told me.'"
On Having a "Brain Dump"
Once Carline figures out exactly who she is speaking to, the next step is getting to know the product and the industry. She always wants to make sure she has the most eye-catching details for her copy. And she collects those in a very special place.
"Once I kind of knew who I was talking to and I had an idea of what I was going to write, then all I would do is start doing my research. I would just read and read and read until I found something I call my 'a-ha moment' or something I didn't know that was interesting. And I would write about that in my document.
By the time I go through a book that's got 1000 amazing secrets, I may have 50 pages of copy and it's just brain dump.
And I'll tell you within those 50 pages of copy or 30 pages, whatever I end up with is my theme. [I do this so] I don't have to go back to the book anymore. I go back to my document and from that document is where I'm going to actually create the promotion."
How to Train Your Clients
Carline refers to her process as being very "amoeba-like." There's no structure to her promotion until the very end.
As you can imagine, that makes sending regular updates to clients challenging. So, she has to train her clients in what to expect.
"I cannot give a client an outline, because I don't know what I'm going to write about until I get into it. [If I did], it might be completely different than what they end up with, because I allow the copy to kind of take me where I need to go.
I think that's one of the secrets of helping me to get better controls. I'm not stuck in a mode — like, 'Okay, this is my theme. This is my direction.' I think that's my theme and direction, but it may not be.
So I've learned to train my clients or to choose the clients who say, 'Listen, we don't care what your process is. We just want a control.' And those are my clients."
Blow Expectations Out of the Water
Thanks to Carline's strategies, it's not unusual for her to collect 6-figure royalties from just one campaign — from a package that only took her a few weeks to complete.
In her years of experience, she's developed countless techniques not only to write controls more often, but also to write them faster. And those are the big secrets she's going to reveal at Bootcamp this year.
In her presentation, she'll share her tactics for never facing a blank page again, getting more copy done faster (which means more income for you), and how to give your copy three to four times the chance of becoming a control.
Find out more about how you can see Carline at Bootcamp this year here.
And if you want to hear her whole story, you can access our full interview by clicking on the link below.

The Professional Writers' Alliance
At last, a professional organization that caters to the needs of direct-response industry writers. Find out how membership can change the course of your career. Learn More »

Published: August 20, 2014