Let Mark Twain Guide you

Samantha stood on the craggy, wind-blown, barren precipice overlooking the broad, dark canyon below.

She couldn't see the meandering river flowing briskly through the canyon, but she could hear its susurrating movement across the huge rocks. She smiled a wide, sardonic smile.
If you're still with me after this awful bit of prose I wrote for this article, thank you. Now, take a look at what Mark Twain said …
"When you catch an adjective, kill it."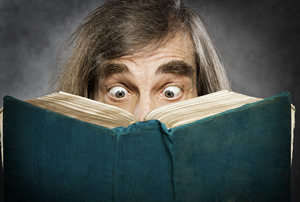 Remember back to around the seventh or eighth grade. We learned that adjectives describe things. In my example, the word "barren" describes what the precipice looks like. It's an adjective. So are "craggy, wind-blown, broad, dark" … you get the idea.
When our teachers introduced us to adjectives, they told us these words would make our writing more descriptive. They'd make it appeal more to our reader's senses.
But Mark Twain, of all people, said to kill them.
And he's right … or almost, as you'll see in a moment.
This isn't some rule from the writing gods you should follow blindly. There's good reason for limiting your use of these words.
As a copywriter, you have one crucial job. You must get your copy read without your prospect being distracted. You want the writing to fade into the background.
When you use too many adjectives, what you're describing doesn't feel more real. Instead it feels artificial, forced. This slows your reader down. Writing this way will force your reader to try to figure out what you're trying to say, or to question how sincere or knowledgeable you really are.
Not what you want when you're working to make a strong connection with your reader.
Going back to my deliberately poorly written sample … saying that the precipice was "craggy, wind-blown, and barren" slows the reader down. She's sitting there reading what I wrote and struggling to envision all three things at the same time.
Thin out … don't eliminate …
Don't get the idea I'm advising to eliminate all adjectives when you write. I tricked you when I showed you Mark Twain's quote. I only showed you part of it. Here's the entire quote …
"When you catch an adjective, kill it. No, I don't mean utterly, but kill most of them—then the rest will be valuable. They weaken when they are close together. They give strength when they are far apart."
Adjectives … like spices … work their magic when you use them sparingly. And following Mark Twain's advice—and the advice of many great writers and copywriters—they are strongest when separated.
Let's see how this works in direct marketing. I borrowed the following example from a familiar promotion. Then I added some of my descriptive flare to it.
You look out your Dormer window, past your hard-working, tanned gardener. He is busy pruning the abundant lemon, cherry, and fig trees … amidst the splendor of beautifully scented gardenias, deep red hibiscus, and spiky hollyhocks.

The sky is clear deep, azure blue. The sea is a deeper blue, sparkling with sunlight.

A gentle, warm breeze comes drifting in from the smooth ocean, clean and refreshing, as your very attentive maid brings you a scrumptious breakfast in bed.
You might recognize this as a rewritten version of Bill Bonner's International Living 25-year control.
Notice how the additional adjectives muddy the writing. Instead of being able to glide through the words, you have to wade through them, each unnecessary word slogging you down.
I'm going to give you an "assignment" of sorts. Go back and look at my bad rendition of Bill's headline. Pick out as many of the words you think I stuck in. Here's what you should end up with:
You look out your window, past your gardener, who is busy pruning the lemon, cherry, and fig trees … amidst the splendor of gardenias, hibiscus, and hollyhocks.

The sky is clear blue. The sea is a deeper blue, sparkling with sunlight.

A gentle breeze comes drifting in from the ocean, clean and refreshing, as your maid brings you breakfast in bed.
I had you do this because this is exactly how you strengthen your own writing by getting rid of unnecessary adjectives.
After you've written your first draft, go back, and every time you "catch an adjective," ask yourself if it's absolutely necessary. If not, kill it. And, if you run into two or more in a row, without pause, get rid of all but one. Then ask yourself if that one is really necessary.
This may be difficult to do at first. It's always hard to get rid of words you've written when you haven't been writing for very long. After a while it becomes much easier, because you'll see how much stronger your writing is when you follow Mark Twain's advice.

The Professional Writers' Alliance
At last, a professional organization that caters to the needs of direct-response industry writers. Find out how membership can change the course of your career. Learn More »

Published: August 25, 2014