Video:


September Great Books Club Selection:
The War of Art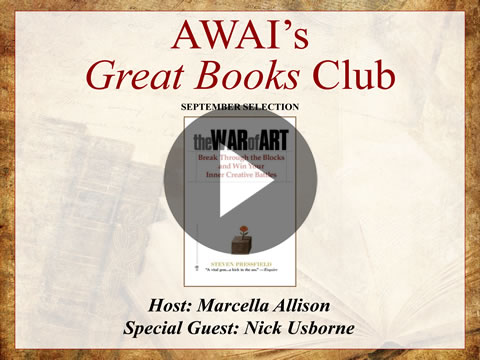 Audio Only (right-click to save) Slides Only
As a writer, you are a creative person. But to live the writer's life, you have to make that creativity, as well as the writing skills and expertise in certain niches you've acquired, pay. And for that, you need to be productive and consistently write at the top of your game to attract the clients and fees you deserve.
That's the lesson at the heart of the next book in AWAI's Great Books Club, The War of Art by Steven Pressfield. Club moderator Marcella Allison will be joined by Nick Usborne, a web writing innovator who's worked with Citibank, Apple, Reuters, and many others; mentored hundreds of up-and-coming copywriters; and authored several programs for AWAI, including Web Copywriting 2.0.
Nick and Marcella will dig deep into Pressfield's book and pull for further discussion the lessons that are most useful to writers. Whether you're into web writing, B2B, social media … any niche … this book can accelerate your career by giving you a step-by-step plan for overcoming obstacles in your life and reaching success.
As Nick himself puts it:
"This must be one of the only 'self-help' books out there that has zero fluff, zero pampering, and zero 'rah-rah' nonsense. It's tough, hard-hitting, and massively useful.

"In The War of Art, you'll learn how to become a true pro. Being a pro means you sit down to work five days a week and get the work done, every day. Being a pro means you are immune to writer's block and procrastination. Being a pro means you can tap into your most inspired, creative, and productive self automatically, simply by focusing on the work in front of you.

"If you haven't read this book, and taken it to heart, I very much doubt you have achieved your true potential as a writer.

"In other words … go get it and read it now."
To get a copy of The War of Art, just go here.

The Professional Writers' Alliance
At last, a professional organization that caters to the needs of direct-response industry writers. Find out how membership can change the course of your career. Learn More »

Published: August 26, 2014