AWAI Member Gets Her Big Break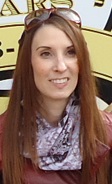 The time comes in every copywriting career when you get that first big project. It's time to apply in a real-world setting the skills you've learned from programs and practice exercises. AWAI member Donna Cederstrand is ready for that challenge.
"I just secured my first major copywriting assignment. It is a large, direct-response campaign. The client is a mortgage broker who needs brochures, direct-mail sales letters, assistance with website landing pages and blog posts, management of social media … the list is endless. I see this as a big break because the components are vast, and I will have the chance to showcase all of my skills," says Donna, who joined AWAI in December 2013.
"At first, I was shocked that someone would put their trust and faith in a beginner, but I'm excited about the challenge. I am confident about the outcome being positive both for my client and myself. I have been given all the tools necessary, and I'm glad to be putting them to the test."
Along with the fees Donna will earn, this first project will also have a big impact on her career by way of more samples for her portfolio, possible referrals to other clients, and — of course — the experience of writing copy and working with a client.
Although this is Donna's first big copy project, she has been freelance writing for some time. She writes content and travel articles for online publications and her own travel site and works with clients on children's nursery rhymes and short stories. Writing for a nonprofit group about clean water for Haiti has been another focus. And she's even provided the voice for a character in a children's series for a New York-based client.
Still, she's excited to put her direct-response skills to the test in persuading prospects to take action … and being able to track and measure the results. The freedom — and fun — of the writer's life is calling.
"I have so much creativity bubbling inside me that it's the only way that feels right to let it out. I am also a mother to a loving little girl, and I want to show her that dreams are possible," explains Donna. "It just takes hard work, determination, and perseverance. I would love to leave a legacy for her and for her to be proud of me."
This is great news, Donna. Knock it out of the park with this project and let us know how it goes.
You can find out more about Donna through her LinkedIn page.

The Professional Writers' Alliance
At last, a professional organization that caters to the needs of direct-response industry writers. Find out how membership can change the course of your career. Learn More »

Published: September 30, 2014