Barefoot Writer Celebrates Three Years of Helping People Discover The Writer's Life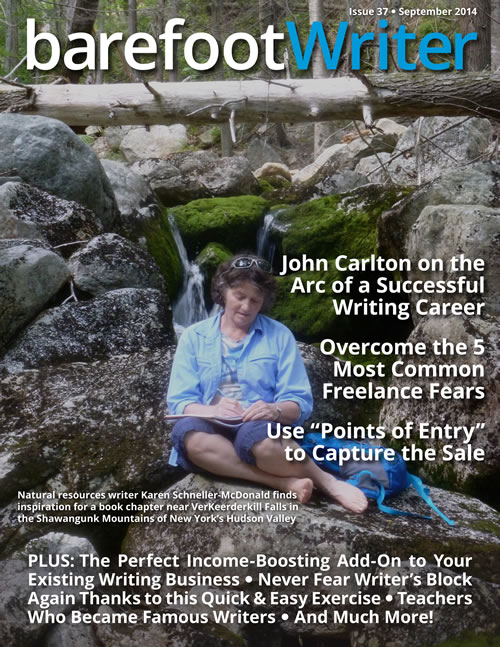 Three years ago this month, AWAI launched Barefoot Writer Magazine, a monthly digital publication and community, to help people create their version of the writer's life.
For everyone involved with Barefoot Writer, the writer's life is all about freedom from the typical 9-to-5 world … meaning you can work where you want, when you want, make as much money as you want, and even write (and make your living) barefooted on the beach if you choose.
The publication covers a wide range of opportunities for people who love to write and have a desire to make a living from it – or even just a little spare cash on the side. But the publishers believe the heart of a successful writing business is the art of persuasive writing – the springboard to a whole world of money-making careers for writers.
"What you see in the pages of Barefoot Writer is a true reflection of our industry, and that's what we hoped it would be when we started three years ago. That and a great career resource for our subscribers," says AWAI Executive Director Katie Yeakle and Co-Publisher of Barefoot Writer. "There's always something new – a new opportunity, a new trend to take advantage of … It's a great illustration of how these industries and niches are growing and thriving."
Web writing, business-to-business (B2B) copywriting, social media, photography, self-publishing, online content, travel writing, grant writing, and many more have been covered in the last few years … and they have something big in common: they allow people to make money – good money – doing what they love. It's the ideal resource for those who want to live the writer's life but aren't sure which path to pursue.
"Our goal has been to help subscribers get a solid handle on the types of paying opportunities in the writing world that are theirs for the taking. We show them how to go after these opportunities with step-by-step advice that includes pricing strategies and basic summaries of what to expect within each type of project," says Barefoot Writer Executive Editor Mindy McHorse.
By tracking trends, like the growth of the B2B and web writing industries, and its needs for qualified writers, Barefoot Writer helps orient readers in the right direction for career success. In its interview series, expert copywriters, marketers, publishers, graphic designers and more reveal the "insider secrets" that they share nowhere else. And every issue is packed with tips and tools to help you be more productive, more creative, and more successful in landing clients and everything else that goes along with being a freelancer.
Besides practical advice, there's also a regular dose of motivation from Barefoot Writer subscribers-turned-contributors like Christina Gillick, Li Vasquez-Noone, Guillermo Rubio, Cindy Cyr, and countless more. They've found success in the industry and are eager to help those just starting out. And plenty of well-known A-list writers regularly appear to pass on their wisdom as well, like Bob Bly, Herschell Gordon Lewis, Clayton Makepeace, John Forde, Lori Haller, and more.
"Barefoot Writer couldn't have succeeded without the help of our industry friends who value their role as mentors as well as the AWAI members who are excelling in their careers. All our contributors are happy to help new freelancers," says Rebecca Matter, AWAI's President and Co-Publisher of Barefoot Writer. "I'd like to say thanks to all those who've contributed … and all those who've been reading – we couldn't have done it without you."
With the continued growth of ecommerce and the constant need for copywriters, graphic designers, and others to serve that industry, as well as new forms of marketing and advertising always on the horizon, it's a sure thing that Barefoot Writer will be a go-to resource for the next generation of freelance professionals looking for more freedom and control in their writing careers.
If you're not yet a subscriber to Barefoot Writer Magazine, it's easy … and very affordable too. It's a great way to get a taste of all the freelance opportunities out there and figure out which one is right for you.

The Barefoot Writer
Discover a lucrative style of writing that will give you as much freedom as you can have while earning a great income at the same time. Learn More »

Published: September 26, 2014