Do Your Clients Have a "Power Core"?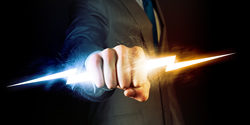 Today, I have a special bonus for you …
I promised to tell you about my fifth and final key indicator of a "golden client."
And, I will.
The bonus part is that this key indicator is also the secret ingredient for all mind-blowing copy.
That's right … if you can master this key indicator, you can … identify golden clients … attract them to want to work with you … and create blockbuster copy … all at the same time!
To show you what this amazing thing is, let me tell you one last story …
A few months ago, a client asked me to write a promo to sell an event.
I used my secret key indicator #5 to analyze the project. I instantly saw that it matched up perfectly, and I had nothing to lose by jumping on the project.
I wrote the package – a 24-page sales letter, an associated video sales letter, and a handful of emails – all in less than a week. It was some of the fastest, easiest, funnest writing I've ever done.
I mentioned to the client that it felt like the words were flowing like water from my fingertips.
When they launched the promo, the event sold out in less than two weeks.
They added more seats … and those sold out in less than 48 hours!
So, a waiting list was created. The demand was so intense (and there was no way to fit everyone in the live room), they were forced to hire a video crew to record the event. These recordings were turned into a home-study program so thousands more could experience the event.
Obviously, the copy was a smashing success. It was a pleasure for me to write. And, it was financially rewarding for all of us (continues to be!).
I want you to know this scenario is not that uncommon. This sort of thing happens to me over and over again … not because I'm the world's greatest writer, but rather because I understand "golden client" key indicator #5.
So, what is this magic indicator?
As I said, I call it the "Power Core."
Here's what I mean …
Every great copywriter knows the heart of every amazing piece of copy is an amazing product or service.
One of the hardest things in the world is to take a dud product and try to spruce it up with magical marketing and persuasive spin. It's like trying to make a dead Christmas tree look beautiful … you can spray the thing with flocking, but at the core, it's still a dry, dead, sad little tree.
By contrast, if you have a truly amazing product, all you have to do is effectively tell the story, and it will sell itself … no lies or spin needed!
The beginning of all great copy is a great product or service.
When you're considering working with a client, first consider what they're selling …
Does it have great intrinsic value?
Does it way over-deliver?
Does it provide a needed service?
Does it fill a big gap in the market?
These are the questions you should be asking before you ink a deal or agree to work with a client. If you can see the product is awesome, you'll know your odds of writing winning copy will instantly and automatically skyrocket.
And, like with my live event promotion, the results will delight the client and make everyone happier and richer.
How do you position yourself to work with winning products and services? The answer lies in doing a little research …
What you're looking for is an industry that's growing by 10% or more each year. The higher the growth rate, the more likely it'll be full of products and services that are truly excellent.
So, when you're choosing a niche, look for one that's on the move … that's growing fast.
Do you know of an industry or a small niche like this? I'd love to hear about it … and so would other writers.
I'll start … one area that's growing by double-digit growth rates is the pet industry. Here's another one … personalized technology. (Think apps, mobile devices, etc … that harness big data to create on-the-fly, personalized experiences.)
One last thing … would you like to know who the client was and what live event I wrote about that was so amazing it sold itself?
I think you should know … the client was AWAI. The event was Bob Bly's Getting Clients Weekend in Baltimore a few weeks ago. I'm happy to let you know, if you missed the live event, they really did record every word of it, and the home-study version is almost ready.
Would you like to see my winning copy? Here's a version of it that talks about the home-study program.
I think you'll enjoy reading it … and, if you want to discover how to land high-paying clients, I strongly suggest you get the program. It was an amazing event, packed with some of the best client-getting secrets I've ever heard.

The Professional Writers' Alliance
At last, a professional organization that caters to the needs of direct-response industry writers. Find out how membership can change the course of your career. Learn More »

Published: September 5, 2014