Google Authorship is Dead! Now What?

Google has done it again.
They introduced a tool. Got many of us to fall in love with it. And now they're pulling the plug.
It's true. On August 28th, Google announced that they would no longer support Google Authorship. They won't use authorship to determine search engine results. And they will no longer track information based on the rel=author markup used to establish authorship.
The reasons are many, but they all boil down to not enough people were using it, and many of those who were using it weren't using it correctly. Also, Google says it found that authorship did not provide much value to searchers.
So, Google Authorship has gone the way of the Wonder Wheel. (I still miss the Wonder Wheel.)
What's a web writer to do? You had a handy tool to help your readers, prospective clients, and influencers in your industry connect the dots when it came to what you published and where. With Authorship, you could quickly build and solidify a reputation as an expert in your niche. It gave you extra weight in search results, too.
Well, fortunately, in the fast-changing world of social media, you have a lot of options to continue building your authority … even without Google Authorship. As with most things, the most useful are the ones you'll actually use. So test the possible combinations and come up with a mix that works for you.
7 Ways to Build Your Authority Without Google Authorship
1. Google+
Even though Google is no longer giving weight to the authorship tags, being an active participant in Google+ can have a positive impact on your reputation and your search engine results.
When Google provides search results, it takes into account a lot of different factors. Including who is searching and who they are connected with through Google+. If someone in your circles has content that ties closely to your search term, their content will appear higher in the search engine results for you than it might for someone that doesn't follow them.
What this means to you as a web writer is that connecting with influencers in your industry and with prospective clients through Google+ will make you show up in their search engine results more often. And that gives you authority.
Begin following more people on Google+, start more conversations, participate in more conversations, and share your content with your followers.
2. LinkedIn
LinkedIn is working hard to become as much a publishing platform as it is a social media network. This shift is something to pay close attention to. In the future, expect LinkedIn to provide you with a solid publishing platform — another place to demonstrate your authority to your connections.
It is already a good place to share the content you create on other sites.
3. Your Own Website
Even if you don't want to blog every week, you should publish periodically on your own website. When you do, share the links to what you've published throughout the different social media networks you participate in.
Also, consider adding a page to your website that links to articles you've published in other places. This starts to create a web between your central hub and all the other places you appear. And that helps anyone interested in you to find you through a variety of different channels. It helps them to confirm that yes, the person whose website they visited yesterday is the same person who published the wonderful article they read on LinkedIn last week. Those multiple points of contact help to confirm your credibility in their mind.
4. Rich Snippets
One of things that Google is recommending to help your content get a high value display in search engine results is rich snippets.
These snippets are code you can add to a web page that can change the way your page displays in the search results. (Google doesn't guarantee it will use your rich snippets, but when it does, it makes a big difference.)
Let's take a look. Here's a search result for a restaurant that does not use rich snippets:

And here's one for a restaurant using rich snippets: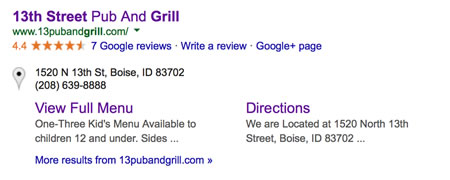 Quite a difference. That second result is more eye-catching and more useful. It includes reviews, an address, a direct link to the menu, and directions.
You can add rich snippets to any pages that have reviews, product lists, recipes, events, or music. You also add rich snippets to any references to people, so that Google can display their contact information as part of the search result, if that's desirable.
Rich snippets are a bit more on the technical side, but as a web writer, they are something you should have a basic understanding of, enough to discuss with your webmaster if they become relevant to an article you're posting and especially if they can help you boost results for clients.
5. Twitter
Twitter is another important social network to use when building your authority. It is a place to quickly highlight key points in any content you've created — for your site or for another — and to share links. In your profile, include a link back to your own web page.
Again, you're creating connections between your home base (your website), content that you have published elsewhere, and your social media presence. It helps to build a more complete picture of who you are and what you know.
6. Bylines
When publishing on other sites, or even for clients, focus on projects where you'll get a byline.
While Google has discontinued Authorship, they still see value in weighting results based on the reputation and influence of the author. As they take a step back and review how best to approach AuthorRank, bylines may well play a significant role.
Plus, having a byline promotes your authority to anyone reading the article. With enough bylines and a reputation for producing high-quality content, you'll find more clients approaching you because of who you are and not just because of what you can write.
7. Other Social Media Networks
LinkedIn, Twitter, and Google+ all deliver high value when it comes to helping you build your reputation and establish your authority.
Part of the overall process is just being present and regularly connecting with your followers. You can do more of that by using additional social media sites like StumbleUpon, YouTube, SlideShare, or Quora. Each of these sites has a different function and different appeal. Explore them all to find out which ones you enjoy and then make those part of your reputation-building mix.
Think Beyond Google
You've probably heard of the Heisenberg principle … that the very act of observing something changes its behavior. When it comes to search engine rankings, this principle plays itself out over and over again. People jump through so many hoops trying to impress Google that they lose sight of what's really important … impressing their actual, human visitors.
Whatever you do, make sure you are adding value for your users. That's what really gets a search engine's attention. And that is what will build your authority and reputation over time.
You may notice that social media plays a substantial role in building your reputation as an expert. It gives you multiple ways to connect with your audience. The more points of connection you have and the more value you share, the more authority you'll convey. To dig deeper into social media and discover how you can use it to build your business, and to help deliver better results for your clients, check out Nick Usborne's How to Make Money as a Social Media Marketing Expert.
This article, Google Authorship is Dead! Now What?, was originally published by Wealthy Web Writer.

How to Make Money as a Social Media Marketing Expert
Everything you need to know to become a social media marketing expert, as well as four different ways to make money using that expertise. Learn More »

Published: September 10, 2014