Audio Interview:


How Joshua Boswell Makes $20,000 in
Four Days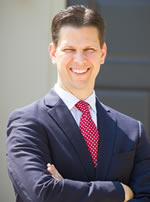 You may know Joshua Boswell as a friendly, optimistic, and incredibly successful copywriter, speaker, and consultant. However, things haven't always been that way …
Joshua explains, "In January of 2005, I was a couple of hundred thousand dollars in debt with no way to make money. I didn't have any clients. I didn't have a business. I didn't have a job. And from December until end of March, April, I really struggled financially."
It wasn't until discovering copywriting that he was able to turn his life around. In just a year after taking AWAI's Accelerated Copywriting Course, he became a six-figure copywriter working on projects with clients like Sony and Microsoft.
Joshua attributes a lot of his success to Bootcamp, where he routinely scoops up $20,000 to $30,000 worth of projects from Job Fair. And that's not including repeat clients and referrals.
AWAI recently spoke with Joshua, and he shared his insights on what makes Bootcamp so special and how to make the most out of it. Here are his five strategies to make sure Bootcamp pays you back tenfold.
Jumpstart Your Career
Since Joshua had to borrow money to pursue copywriting, he wanted to make sure it was worth it. That meant recognizing the opportunity in front of him and developing the right mindset.
"My philosophy has always been that it's a real business," Joshua says. "I've never viewed this as a hobby or a side project. As my wife and I often say, 'Somebody has to pay for the party.' So if I was going to invest the money to go, somebody was going to need to pay for it.
And Bootcamp has always been a golden opportunity to find clients.
[Before Bootcamp] I had spent almost a year and a half tracking down clients, looking for people who were interested, groveling, begging, selling myself, marketing myself, and hunting the world over for people who were interested in my services.
At Job Fair, they round up 50 or 60 or 70 of super-qualified, highly interested clients. They stick them all in one room, and they're fair game."
Every year, "I'd pick up two different clients. And this last year, those two clients have both been worth well over $100,000 for me."
Make the Experience Your Own
It's one thing to go to Bootcamp, but it's another to make the most out of it. Joshua is a big proponent of coming prepared so you can hit the ground running.
Joshua continues, "Often times I hear new copywriters coming to Bootcamp, and they don't know what they don't know. It's hard to ask questions about things.
Questions provide the power at Bootcamp. Because if you come without questions, then you're just absorbing information. If you come with questions, then what you're doing is you're personalizing the whole experience and you're making it relevant to where you're at."
What are three things you can do to come up with questions?
"[First], decide on a niche. [Then], read everything you can about copywriting. At least quickly read through the entire course.
Finally, start researching potential clients. Look at who's coming to Job Fair.
If you start trying to decide on a niche, then you'll probably run into some questions of like, 'Well, what's the best niche?' Those can be answered at Bootcamp.
If you start researching clients and asking yourself, 'Well, what do they really need and what are they looking for,' then you'll get answers.
And you can walk away from there just in full gear, charging forward, ready to hit the road running."
Create Lasting Connections
Many of Joshua's best connections have come from Bootcamp. Not just professional either, though he's certainly made the most out of that.
It's the friendships he's developed with other attendees that make it truly special.
"It's great to make the connections, to see people, to form relationships. I've gotten a number of great friends. The relationships began at Bootcamp with both beginning copywriters and well-seasoned experts.
My first real connection with Clayton Makepeace came at Bootcamp. He and I have done a couple of major, major projects together. It's been lucrative for both of us. And I consider him a dear friend."
Chat with Your Favorite Experts
It can be intimidating coming to Delray for the first time, seeing hundreds of attendees, and standing face-to-face with experts like Dan Kennedy, John Carlton, and Bob Bly. Anyone would be nervous!
As Joshua can attest, there's nothing to worry about. Everyone there wants to see you succeed. All you have to do is take the first step.
"I think that the first thing that happened to me as I went into Bootcamp and into Job Fair is I had a connection with the AWAI staff that was there. As I met them, I realized how genuine and sincere they were.
I had dreamed of meeting Mark Ford. I remember he was just standing out in the hall all by himself …
And so my heart is racing and I'm kind of weak in the knees. And I walked out there and said hi to him. And he stood there and talked to me for like 35 minutes, just shooting the breeze with me and just chatting and answering questions.
I found that it was like a great big family. They were super interested in my success and helping me out."
Making the Most of Job Fair
In order to go to Job Fair and reap the rewards like Joshua has, you've got to know who you're dealing with. Thankfully, you can access a list of Job Fair marketers on your Bootcamp page so you can prepare beforehand.
And Joshua has a few tips for making sure you walk away with a few high-paying clients of your own.
"Decide on just a couple of areas that are of high interest to you where you think you would enjoy writing. Having that step out of the way, you can start looking at Job Fair and say, 'Okay. Who matches these categories?'
I would start researching potential clients. Look at who's coming to Job Fair. Look at who's in your industry.
Look at different companies and decide what do they do and what are their needs and all those kinds of things."
Armed with this intelligence, you can march into Job Fair ready to impress marketers, get the answers you need to nail the specs, and get on the fast track to the writer's life.
An Experience Tailored to You
What Joshua loves about Bootcamp is the breadth of opportunity it provides – you can develop your copywriting and marketing skills through presentations from world-class experts, talk face-to-face with dozens of marketers desperate for writers with your skill set, and create lasting friendships.
As Joshua says, "We are getting this incredibly high-powered, dominant line-up at Bootcamp for a fraction of the price what many, many people are paying out there. To have the opportunity to speak to some of these guys and spend time with them is just awesome."
Find out more about how you can land high-paying clients and jumpstart your business at Bootcamp here. And if you want to hear more about how Joshua used copywriting to get out of debt and create a life of freedom for his family, our full interview is below.

The Professional Writers' Alliance
At last, a professional organization that caters to the needs of direct-response industry writers. Find out how membership can change the course of your career. Learn More »

Published: September 26, 2014