How to Find Clients Who Will Pay You What You're Worth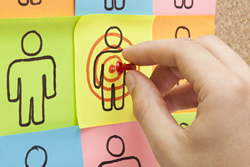 When you first hang out your copywriting shingle, you're excited. You're eager to show the world your new skills and start making money. Yet, many beginning copywriters lack a critical skill in these early days.
It's the skill of "qualifying" your prospects. Developing this skill is crucial for your bank account, your enthusiasm, and your sanity. The faster you realize it, the sooner you'll be profitable.
Why "People Who Eat" is a Not a Target Audience
A food and wine marketer I know said one of her clients described her target market as "people who eat." Hmmm … what do you think? While everyone eats, everyone is not interested in taking gourmet-cooking classes. Even if they are interested, they may not have the time or the money. So "everyone who eats," is not a prospect.
Do you see the difference?
Now, let's turn to the beginning copywriter who thinks "everyone" is their prospect. Have you ever thought that every business around you needed your marketing help? Better yet, that they wanted your marketing help and were ready and willing to pay for it?
There was a time I believed this. Luckily, I got on board with reality fairly quickly.
But I hear this notion from my fellow freelancers all the time. Complaints from a graphic designer who keeps asking me how to get clients. Questions from a new copywriter who wants to know how to find clients to pay her.
I respond with the same parameters I've used to refine my business as I grow.
Who's Your Ideal Client?
When you're getting started, "anyone who will pay me" may be your ideal client. But as you get a little more experienced, you'll realize that's not the best approach.
Here's a "starter ideal client profile":
Clients who want and need what you offer.
Clients who have a marketing budget so they can pay you professional rates.
Clients who get back to you in a timely fashion and don't start their projects all gung-ho and then fade away when you're trying to finish up.
Clients who respect and value you.
Hmm … that's a bit narrower than "anyone who will pay me," isn't it? Yet, it's still pretty broad. As you gain more experience, you may focus on a particular industry or add some other qualifiers to the list. But this will do for starters.
Now, here's how you put it into practice …
In sales terms, you need to "qualify" a prospect.
A "qualified" prospect is simply one who meets the requirements of your ideal client profile. It may take a few tries to nail this process, but after some practice, you'll be able to qualify quickly. You do this by asking questions and listening.
The following questions come from sales guru Brian Tracy:
1. Does the prospect need what you're selling? If you write web copy and they just redid their website, they're probably not a good candidate — at least not right now. However, if they outsourced that work to freelancers, they may be a candidate in a year or two. This is where staying in touch occasionally can benefit you.
2. Can the prospect use what you're selling? If you write web copy and they know they need better web copy, but their website is handled by a corporate entity in another state, they're probably not a good candidate.
3. Can they afford it? If they need web copy and can use it but have no budget … well, if you want to do it for free for a portfolio piece, maybe you can work out a deal.
4. Do they want it? If they just redid their website, chances are they don't want to think about it for a while because website projects can take a lot of time, even if they know they need better copy.
And, I'll add a couple of my own qualifiers:
5. Do they hire freelancers? If they do everything in-house or they have a designated agency, then they probably won't hire you. It's just not how they prefer to handle things. Move on.
6. Are they the decision-maker or are they willing to connect you with the decision-maker? If you can connect with a business owner or marketing director who is open and willing to discuss marketing needs with you, that may be an opportunity.
Next time you're talking with someone you hope may be a prospect, listen and ask the types of questions that will help you qualify them. There's no sense wasting time if the door is barricaded. There are too many other people who need your help.
Once you realize your job is one of qualifying people, you'll have a totally different outlook.
You put yourself in control, you give yourself confidence, and you know who you want to work with, and what you want to do. That makes the process of finding and landing good clients so much easier.
This article, How to Find Clients Who Will Pay What You're Worth, was originally published by Wealthy Web Writer.

The Professional Writers' Alliance
At last, a professional organization that caters to the needs of direct-response industry writers. Find out how membership can change the course of your career. Learn More »

Published: September 17, 2014