Video:


October Great Books Club Selection:
My Life in Advertising and Scientific Advertising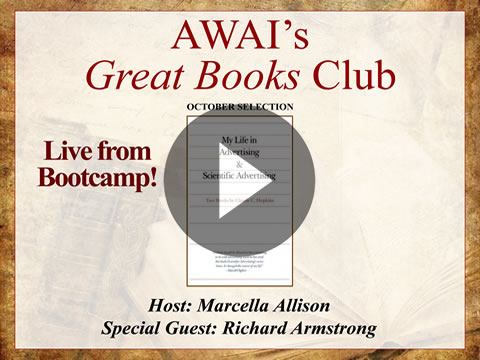 Audio Only (right-click to save) Slides Only
When Claude Hopkins wrote his classic texts on copywriting and marketing, My Life in Advertising and Scientific Advertising, nearly a century ago, the industry was a very different place, at least on the surface. There was no e-commerce … no email … no social media.
But the knowledge passed on in Hopkins' works, which will be featured in the October edition of AWAI's Great Books Club, is just as valuable now as it was back then. These are timeless truths about how to tap into consumer psychology and behavior, the best ways to gauge the success of marketing campaigns – and improve them, and more.
For this discussion, Club Moderator Marcella Allison will be joined by A-level copywriter and 2012 AWAI Copywriter of the Year, Richard Armstrong. This is a special session, taking place live from AWAI's FastTrack to Copywriting Success Bootcamp and Job Fair on Oct. 16.
Richard feels quite strongly about Hopkins's work. Here's what he has to say …
"I chose Claude Hopkins's My Life in Advertising and Scientific Advertising for the October Great Books Club for the same reason I would choose Plato to launch a discussion of philosophy or the Old Testament to begin a course on Western religion.
"Hopkins's books are not only among the oldest surviving texts on copywriting, but they're still among the best. He was not the first great copywriter. But he was the first to set down rules and principles based on his successes in the real world of advertising.
"As I read these books in preparation for our discussion (probably for the tenth time!), I was struck yet again by how Hopkins's principles are still being applied in the new electronic media we use today. The more things change, the more they remain the same.
"And the better you understand what Claude Hopkins was doing nearly a century ago, the better you'll do when you sit down to write your next email, website, or landing page."
You can order your copy of My Life in Advertising/Scientific Advertising (both books are bundled in one edition) here.

The Professional Writers' Alliance
At last, a professional organization that caters to the needs of direct-response industry writers. Find out how membership can change the course of your career. Learn More »

Published: September 19, 2014