Video:


November Great Books Club Selection:
A Technique for Producing Ideas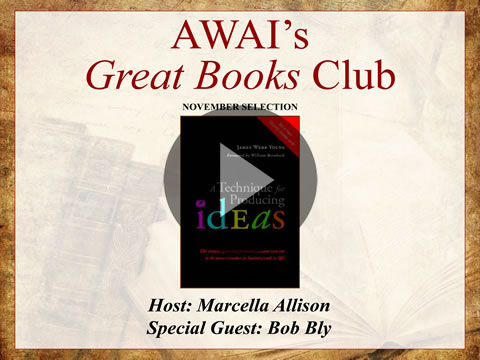 Audio Only (right-click to save) Slides Only
How to come up with Big Ideas for your copy … it's at the heart of any writing project and can be an elusive goal at times. Fortunately, you don't have to start from scratch or a blank page.
There are ways to train yourself to come up with better ideas … faster. The key is a simple process for going from raw material to refined, breakthrough ideas. And during the November session of AWAI's Great Books Club, you're going learn that process as we tackle A Technique for Producing Ideas.
The author, James Webb Young, had his heyday in the early 20th century as a go-to copywriter and marketer. But his method for coming up ideas, which he came up with for a speech to a professional organization and later expanded to a 64-page book, is still well-known in industries like advertising. The tips apply not just to copywriting … but just about any endeavor that calls for creative solutions.
Be sure to order your copy of A Technique for Producing Ideas on Amazon here.
Joining Club Host Marcella Allison is A-level copywriter Bob Bly. Bob selected this book because "to produce good writing, you must know something to write about. Two of the five steps in the Young's book are dedicated to research, which I think is the missing ingredient for most mediocre copywriters."
Bob and Young have something in common: a passion for helping new copywriters excel in their field. Bob is a frequent speaker at AWAI's Bootcamp and other industry events, as well as the author of dozens of books. And Young also wrote educational books and taught marketing at the University of Chicago back in the 1930s.
That sense of "giving back" is definitely in the spirit of the Great Books Club, where guests examine some of the greatest works of copywriting, marketing, business, self-improvement and more to pass on the top takeaways that copywriters – newbies and vets – can use to enhance their careers.

The Professional Writers' Alliance
At last, a professional organization that caters to the needs of direct-response industry writers. Find out how membership can change the course of your career. Learn More »

Published: October 17, 2014