Assembling the Framework for Your "Writer's Life" Puzzle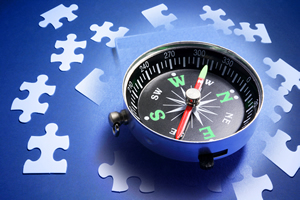 Yesterday I revealed how planning a successful writing career is a lot like putting together a jigsaw puzzle …
The basics of persuasive writing are like the "corner pieces" of the puzzle. Once you get them in place, the next step becomes easier.
Today I want to show you the second step in assembling your writer's life puzzle … creating the framework.
As a freelance writer, I think of the side pieces as choosing a niche.
This step holds your freelance puzzle together and gives you a framework for your business.
I remember when I finally settled on my niche … I had just joined Circle of Success, and included in the program was a mentoring call with Rebecca Matter.
I spent the time whining about my lack of focus and direction. I had no idea which niche was best.
Rebecca listened for a few moments and then confirmed what I had suspected all along – not choosing a niche was my way of procrastinating.
If I wanted my business to go from a pile of puzzle pieces to a recognizable picture, I had to make a decision and get started.
But, here's the kicker …
Choosing your niche isn't as important as simply having a focus.
You see, your writer's life puzzle can be an image of anything. But, if you want to create a recognizable picture, you need to start somewhere.
Most people like to start a puzzle by forming the edges, because they're easy to pick out. Just look for the pieces with a straight edge.
Choosing a niche can be just as simple. Look for the obvious things that stand out … the topics or fields you're interested in or know a lot about. Or the kind of writing that seems the easiest for you, or with the most project opportunities.
If you're finding this part difficult, you're likely over-thinking it.
Just go with your gut!
That brings us to today's action item:
Think back to when you first considered becoming a writer …
What did you imagine you would write?
Your answer is a great starting place for uncovering the ideal niche for you.
Keep in mind your niche doesn't have to be anything original. Instead, choose something that has already proven to be profitable.
For instance, Business-to-Business (or B2B) is a niche that's great for 99% of writers. The industry is huge, the competition is small, and it's fairly easy to break into …
You can even take the short quiz here to see if B2B is right for you.
If you still need some help choosing your niche – or narrowing down your options – let's talk about it in the comments.
Then join me tomorrow to talk about the middle section of your puzzle and how to start putting it together.

The Professional Writers' Alliance
At last, a professional organization that caters to the needs of direct-response industry writers. Find out how membership can change the course of your career. Learn More »

Published: October 21, 2014