AWAI Member Wins TWO Spec Challenges at Bootcamp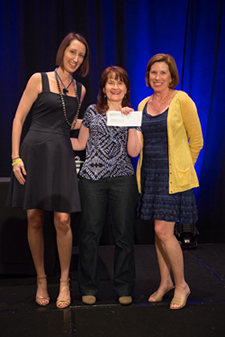 It was quite a Bootcamp for Circle of Success member Elizabeth Blessing. She won not one … but two spec challenges.
First, she was awarded $1,000 as winner of AWAI's Spec Challenge for her head and lead about the Accelerated Program for Six-Figure Copywriting. She also has the chance to land another $1,000 if her copy is mailed to the AWAI list.
Second, she was chosen by Clayton Makepeace, as well as fellow AWAI member Amin Muhammad, to work on a sales letter for financial publisher Weiss Research. It's a $15,000 contract — plus royalties! And she gets to have Clayton himself as a mentor throughout the process.
"I'm going to write the best copy I can for AWAI and Clayton Makepeace. My goal is to have long-term relationships with both clients. The key to this is to be a pleasure to work with and deliver great copy," says Elizabeth.
Elizabeth credits the webinar Clayton hosted outlining his spec challenge for helping her come through with the winning head and lead.
"That webinar was basically a roadmap on how to write a long sales promotion and beat a control. Clayton broke the process down into actionable steps. After listening to the webinar and studying the slides, I thought, 'Hey, while this is certainly intimidating for a newbie, it's definitely doable.'
"So, I rolled up my sleeves and worked on it consistently for about two weeks. I stumbled a lot along the way. Each time, I'd go back to the webinar and listen to what Clayton had to say on the section that was giving me problems."
Elizabeth, a former technical writer, completed the Accelerated Program only in February of this year. And she'd made a lot of progress this year even before winning the specs at Bootcamp. She wrote a sales letter for The Healthy Back Institute, an assignment she landed by submitting a spec. She's also written dozens of short articles for a couple of online content-marketing sites. And she's been working on her website, GroovyVideos.com. She plans to do more self-marketing and — what else? — submit more specs to other potential clients in the coming months.
Going through the Targeted Learning Programs of Circle of Success has also kept her busy.
Elizabeth says, "The program literally took me from being doubtful and insecure in my writing skills and my ability to approach clients, to helping me transform myself into a confident writer with the skills needed to succeed.
"While I will take credit for persevering and doing the work needed, I cannot emphasize enough that having the right tools — which COS provides in abundance — is crucial for learning the craft of persuasive copywriting. In the one year that I've been a COS member, I've learned valuable, lucrative techniques and made more connections than I could have made on my own in five or six years."
Elizabeth, congratulations on the two wins … you're on a roll!
Find out more about Elizabeth Blessing here: www.groovyvideos.com.

The Professional Writers' Alliance
At last, a professional organization that caters to the needs of direct-response industry writers. Find out how membership can change the course of your career. Learn More »

Published: October 24, 2014