Congratulations to AWAI's 2014 Copywriter of the Year – Nick Usborne!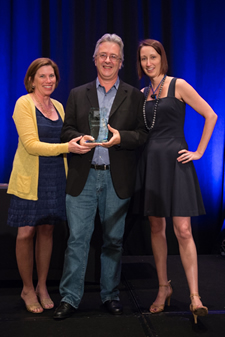 Each year at Bootcamp, AWAI recognizes a copywriter who has not only made a big impact in his or her industry, but has also actively contributed to the training and education of new copywriters.
This year's winner – Nick Usborne – certainly passes both tests with flying colors.
In the early days of his career, he worked in direct mail, honing his craft — like many copywriters — under the watchful eye of mentors.
But, when the Internet took off in the late '90s, he saw a big opportunity, switched gears, and focused solely on writing for the Web.
Along with creating a new career that would later be known as an online copywriter, he published the first book ever written on the topic, Net Words: Creating High-Impact Online Copy.
Over his 30-year career, Nick has worked for big names such as AOL, Citibank, TV Guide, The New York Times, Yahoo!, and Disney, among many others.
He won 15 awards for packages he wrote … all of which were based on the results of the promotions.
He also became an in-demand expert for industry publications, writing hundreds of articles for Clickz, MarketingProfs, iMediaConnection, and Business 2.0.
These days, Nick balances his time between writing online sales letters for clients, and passing on his knowledge and experience to the next generation of writers, by speaking at events like Bootcamp and the Web Copy Intensive, and through popular programs like AWAI's How to Write Your Own Money-Making Websites, and Web Copywriting 2.0.
Along with being a highly sought-out copywriter, he's a gifted teacher who is genuinely eager to help other writers make the leap and find the same fulfillment he has over the years as a copywriter.
"After receiving AWAI's Copywriter of the Year award, I feel myself in the generous company of some of our industry's greats, like Dan Kennedy, Ted Nicholas, Bob Bly, Clayton Makepeace, Richard Armstrong, and several others. It feels good to be in such illustrious company! Needless to say, I feel honored, humbled, and tremendously grateful to be this year's recipient." – Nick Usborne
It was truly an honor for me to present Nick with this award. I've had the pleasure of working with him as an author, a speaker, a copywriter, a coach, and have personally benefited greatly from his experience over the years.
Congratulations, Nick! And thank you for the enormous impact you've had on our many of AWAI members' lives.
Watch Nick Usborne Be Named Copywriter of the Year
Watch Interview with Nick About His Big Win

The Professional Writers' Alliance
At last, a professional organization that caters to the needs of direct-response industry writers. Find out how membership can change the course of your career. Learn More »

Published: October 24, 2014