A B2B Writer Tries His Hand at a New Type of Copy … and Wins Big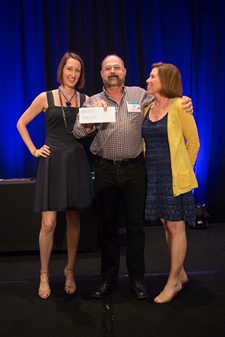 After 30 years in the IT field, it was natural for Circle of Success member Les Worley to focus his new writing career on the B2B niches of software and tech services. But then Ed Gandia, a B2B expert and one of his mentors, encouraged him to set a goal outside of his comfort zone.
Les decided to write a headline and lead for a Spec Challenge for Bootcamp … even though the deadline was just two days away. Les did a great job despite the short turnaround and was recognized as one of the Spec Challenge winners at Bootcamp. He received $1,000 and the chance to work with AWAI further on his copy to the tune of another $1,000 if it's mailed.
"When I saw my letter on the big screen and heard Katie start to read it, I was shocked, honored, and terrified all at the same time," recounts Les. "After the adrenaline rush subsided, I felt a sense of validation and confirmation that I truly am on the right track. What a warm welcome to the writer's life!
"There were several challenges to choose from. I picked the Bootcamp 2015 promo because I really consider last year's Bootcamp (2013) as a major turning point. Not just in my career, but in my life. That probably sounds overly dramatic, but it's true."
Although an AWAI member since 2005, Les's career as a freelance writer didn't start in earnest until 2013. He joined Circle of Success during Bootcamp of that year. It was a big factor in his success since then.
"First, I've had some really great training. :-) The AWAI programs, Accelerated Program, Circle of Success, B2B secrets, white papers, case studies — and there are plenty more," explains Les. "Second, I have some awesome (and patient) mentors. The Circle of Success program (thanks, Will!) and B2B Biz Launcher program (thanks, Ed!), not to mention all those folks at both Bootcamps who took the time and patience to guide me along. That would be a long list though. Also, I can't give credit enough for all the support and encouragement from my husband, Casey. He encouraged me to (finally) go to Bootcamp last year."
Les has excelled recently with his B2B-focused business. He wrote a white paper for a product launch, as well as a case study. And the first client is back asking if he can write blog posts and short articles.
"I have a good list of prospects that I'll be contacting over the next couple weeks. One of those is my former employer. The marketing VP and the whole marketing staff have recently connected with me on LinkedIn. Who better to help them with their copy needs?" says Les.
"And I have to mention Bootcamp and Job Fair. I have some specs to finish after talking to the marketers at Job Fair. On top of that, I've already been contacted by one of the marketers that I didn't talk to at Job Fair … just because of the spec-assignment win! I know that 2015 is going to be a great year!"
Besides all the job opportunities, Les has enjoyed the networking and social benefits of events like Bootcamp, as well as Circle of Success and AWAI.
Les explains, "I have made more friends and acquaintances than I can count, both among AWAI members and through various Facebook and LinkedIn groups. Bootcamp really shines on that one. I worried that being a freelancer would mean 'me against the world,' but that's not the case. I'm also just starting to work with two small accountability groups … that really helps keep me moving."
Congrats on the Spec Challenge win, Les. And let us know how your B2B business goes.
You can find Les's freelance website here: www.LWorleyGroup.com.

The Professional Writers' Alliance
At last, a professional organization that caters to the needs of direct-response industry writers. Find out how membership can change the course of your career. Learn More »

Published: October 23, 2014