Audio Interview:


Clayton's Model for Creating Winners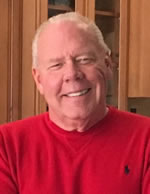 Clayton Makepeace struggled for money as a young freelancer. However, he turned his luck around by taking a chance and challenging a publisher's control …
"My family and I moved up to Prescott," says Clayton, "and we were strapped for cash. In fact, the only money I had for groceries that night was the deposit that I was going to get for returning the U-Haul truck.
It occurred to me that there was this financial publishing company there called Research Publications. I knew the guy that owned it, so I just went into a phone booth and looked up Research Publications and called them and asked for Johnny.
I said, 'Hey Johnny, my name is Clayton Makepeace, I've seen your control for Daily News Digest, your flagship publication and, frankly, I think it sucks.
If you will work with me to create a new package, I won't charge you anything for it. But if it wins, you're going to pay me double my normal fee.'"
The result? Beating out the old control five to one and skyrocketing his freelance career. And the rest is history.
AWAI recently spoke with Clayton on the phone, and he shared his strategies for beating out strong controls — a skill he believes all copywriters must have to succeed.
The First Step
When tackling a piece, the very first thing Clayton considers is the theme. And to get the most compelling answer, he dives into the mind of the reader …
He explains, "In order to determine the theme, I want to know … what are readers thinking about today that they are also going to be thinking about six months from now?
Keep in mind that when you write the promotion, it takes time to go from final draft to actually being read by a prospect. And in direct mail, that could be a couple of months. So, I need a theme that is a long-term trend that my reader is already very engaged with and already either very worried about or very excited about.
I want to look around at what my prospect is reading because whatever he's been reading, that's what he's thinking about. He's got questions about it. He's interested in it.
He'll probably read my promotion if I hit on that theme.
You go to all of the usual suspects. New York Times is a great source of ideas, Wall Street Journal, CNBC, you know? And while you're doing this, you're also noticing the tone with which these publications are addressing your reader, the tone that they are comfortable with."
What Works and What Doesn't?
Another important step in beating a control is researching your competition. By studying past and current promotions, you get better insight to your market and have a stronger chance of succeeding.
Clayton explains, "First, [I study] the promotion I'm trying to beat, the control, but also the promotion that it beat and the controls that my client's competitors are using. It will give me additional theme ideas, but it will also tell me a lot about the type of formats that are working, if it's online or the kind of strategy that's working, if it's direct mail.
What do their promotion pieces look like? What do the envelope teasers look like? Are they doing magalogs? Are they doing slim-jims? What is the format?
Format is important on a couple of levels. One of them is cost if you're in the mail. You can write the best copy that's ever been written in the history of the universe, but if you put it in a format that's too expensive, you could still lose.
If the strategy for getting people to read that copy doesn't do its job, then you're going to flop. So understanding the strategies and the formats that are working right now is very important."
Start at the Beginning
The headline and lead of any piece are crucial to drawing your prospect in and getting them invested enough to read all the way through. If you can knock the opening out of the park, you have a big chance at winning.
Clayton says, "In the open, you've got a lot of very important things happening. You've got the establishment of your theme, your headline, the supportive copy for the headline, a synopsis of what this is about, the introduction of your expert who's sending this message so you're imbuing him with credibility, and you have the copy that's selling them on reading this.
So that's very important. That's critical to the piece, and quite often when I'm doing a test panel to try to improve a package I've written or an online sales campaign I've written, I'll focus just on that.
Maybe the first three pages of copy, you know? Because I know if I'm doing everything right there, there's a good chance I have a pretty good response."
Creating an Irresistible Offer
Clayton's other point of focus in his copy is the offer. More often than not, copywriters overlook this section, and it can make or break your chances at winning the race.
He says, "The offer really is a totality of the description of the product, the description of the premiums, the price, and the risk relief or guarantee. And so I can usually find a way there to strengthen a piece. Now, if I'm trying to be the control, of course I do all of those things.
I'm really amazed, you know, we quite often — in almost all cases actually — offer free gifts. If people subscribe to one of our newsletters, they get some free reports.
And so I'm quite often amazed to see how the free reports that are offered don't even connect to what the main theme of the promotion was.
I want to have better premiums, I want to have a better description of the product, and I want to have a better offer in every way."
How to Handle a "Near Miss"
If you're told your spec didn't beat the control, "but it was close", the race isn't over yet. By taking another look at your piece and tweaking a few key sections, you can turn that runner-up into best in show.
"An intelligent writer would say 'Hey look, alright, if I was that close, let me give you two more panels with alternate headlines and lead copy.' That's the number one thing.
And the second thing they would say is 'I need to see the numbers. I need to see what my average sale was.' Because that will tell me … if my response rate is high but my average sale is low, that means I didn't do a good enough job selling the two-year subscription.
Everybody just took the one-year. If just some of those people had bought the two-year subscription, my revenue from the promotion might have been enough to beat the control.
So I want to go back in and work on a two-year subscription, you know?
On the other hand, if the response was low but the average unit of sale was high, then that tells me that 'man, the people that I sold were really sold.' They took the two-year. But there weren't enough low-dollar people on the one-year to get my response up.
So I need to look at the one-year subscription offer and see what I can do to strengthen that."
Career-Making Advice for All Copywriters
If you are a copywriter, you may have to compete against a strong control someday — possibly one written by a legend like Gary Bencivenga, Parris Lampropoulos, or even Clayton himself.
As scary as it may seem, that could be your career making moment.
Clayton believes that if you win on that assignment … if you beat a really good, well-known copywriter … at that point you could name your own price. From that point on you're going to be in the big leagues.
That's why his presentation at Bootcamp this year is all about how to tackle that challenge — showing you insider secrets and the best strategies for beating tough controls.
You can find out more about Clayton and Bootcamp here. And if you want an even bigger glimpse into the secrets he'll be revealing at Bootcamp, you can listen to our full interview below.

The Professional Writers' Alliance
At last, a professional organization that caters to the needs of direct-response industry writers. Find out how membership can change the course of your career. Learn More »

Published: October 2, 2014