Equivalent Ratios and Your Success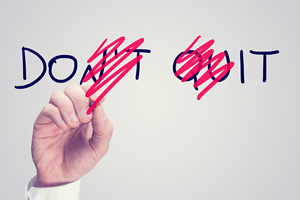 "I can't do it!"
"I don't know!"
"It's too hard!"
If you've been reading The Golden Thread for a while, you know one of the extreme joys in my life is working with young people in my community. Unfortunately, I hear these three-word phrases all too often coming from these kids.
Until recently, I would tell them to say something more positive. For example, instead of saying, "I can't do it," to replace that with, "I'm learning how to do it."
Over the past 15 years or so, I've seen how replacing negative self-talk with positive self-talk really seemed to work in moving them on the way to competence in what they were doing.
I've encouraged this strategy of replacing negative thinking and self-talk with positive self-talk with the Circle of Success members I work with, in the Circle of Success blog, and here in The Golden Thread.
But, no more!
How big is your hat?
I'm not recommending this kind of positive self-talk anymore … not since I heard a story on NPR called "The Power of Self-Talk." This story changed my mind about how to overcome negative thinking.
The story focused in the beginning on how women perceive their bodies.
Dr. Branch Coslett, a cognitive neuroscientist at the University of Pennsylvania, researches women with anorexia.
In his research, Coslett observed anorexic women twisting their bodies when passing through doorways. They acted like they were much bigger than they were in reality.
Remarkably, this same kind of behavior could be seen in women as far back as 1911. Two neurobiologists studied photos and old movies of women at that time.
But these women didn't have anorexia. They wore big hats with large plumes on them. The researchers observed that when women who habitually wore the big hats walked through doors, they ducked … even when not wearing the hat.
So what? What does this have to do with self-talk?
Coslett is finding that self-talk truly shapes our brain physiology. Positive self-talk goes far beyond being a simple confidence booster. From a neurological perspective, it's like internal brain and body remodeling.
There is a big "but" here …
The specific words you use to give yourself positive affirmations seem to matter. Very recent research suggests using the word "I" could stress you out rather than bring the positive effects you want when you give yourself positive self-talk.
Ethan Kross, a researcher at the University of Michigan, found a way around this dilemma. Using your own name instead of saying "I" can, in his words, "have really powerful self-regulatory effects."
In real-person speak he's just saying that using your own name works better than saying "I."
His experiments showed that when people used their own names in self-talk, they were more positive and kinder. It's like we're fooling ourselves to believe we are talking to someone else.
Equivalent ratios and your success …
I tried this approach the other day. Philip is a sixth grader who's good at math but frequently throws up his hands in despair (literally) when he can't get a key concept.
In his mind, there was no way he would ever understand equivalent ratios and ratio values. He has the skills, but self-defeat floored him.
"I can't do it."
"I don't understand it."
"I'll never get it."
"I'm stupid."
I won't go through everything I said to him, but when I got around to having him say, "Philip, you can solve this problem," he looked at me like I was nuts. I asked him to do it as a favor to me. Even though we don't know each other too well yet, he did it … face all scrunched up, but he did it.
I explained the math process one more time. He got the problem right. And the next two. Then it was time for recess.
My challenge to you is this: If this technique works with an 11-year-old boy who's given up, don't you think it's worth trying yourself?
Don't you think it's worth using when you need an extra push to keep moving forward on your path to copywriting success?
I'm doing it for myself from now on, and I hope you try it.

The Professional Writers' Alliance
At last, a professional organization that caters to the needs of direct-response industry writers. Find out how membership can change the course of your career. Learn More »

Published: October 20, 2014