The Easy Way to Block Distracting Temptations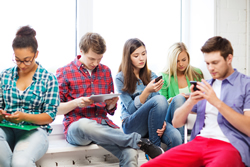 Here we are in our fourth day of becoming more productive … and I've got a terrible confession to make.
You see, even though I've been talking to you all week about improving your ability to get work done – typing faster, chunking jobs, and even timing your work – I don't always get as much done as I want.
Part of my problem is I'm very, very easily distracted. Leave me alone with the Internet, and who knows where I'll end up.
The other day – sales letter deadline looming – my husband walked in to find me shopping for new apartments in Tirana, Albania. Totally not what I was supposed to be doing.
You may find yourself becoming distracted by things in a similar way. Maybe your weakness is Facebook … browsing for new cars … or even watching cat videos.
We all have our own distractions – but I've found some online weapons to make it easy for me to stay focused and on task (and they're free!) …
LeechBlock. This browser add-on lets you limit the amount of time you spend on specific websites. When you hit your limit, it displays a "Page Blocked" message. Personally, I've got Facebook, AirBnB, the Wall Street Journal, and my Gmail account capped at 20 minutes of usage time between 9 a.m. and 6 p.m. Monday through Friday. (FocalFilter is similar, and works on more browser types.)
If you're open to paying, ColdTurkey (Windows), Freedom (Mac & PC), and Anti-Social (Mac & PC) will also keep you offline and locked out of social media for $10 to $15 each.
Setting up one of these temptation blockers takes just a moment or two. All of them can be turned off or reset, so you're not permanently blocked from anything. And they're excellent at making you aware of when you're straying from your task and forcing you to keep working on what you're supposed to be doing.
Does it feel a little odd to resort to these kinds of tools for yourself? Yes, it can. But I think you'll be surprised at just how much more you'll accomplish when you literally cannot become distracted.
So, your task for today is to pick one of these applications – or another similar tool – and set it up now. Let me know what you choose in the comments, so I can be the first to wish you maximum productivity with your new time-saving weapon at your side!
And then, for our last day together, I'll reveal a special tried-and-true way to ensure you make dramatic forward progress on your personal projects and goals in the shortest amount of time possible.

The Professional Writers' Alliance
At last, a professional organization that caters to the needs of direct-response industry writers. Find out how membership can change the course of your career. Learn More »

Published: October 2, 2014