The Surest Way to Reach Your Success Goal

"If you don't know where you're going,
how will you know when you get there?"
– Anonymous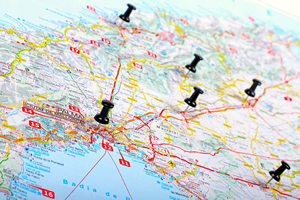 Yesterday we talked about how achieving success is like a journey along an unknown road. To make it to the end, you need a good road map.
That road map is a well-thought-out, specific set of goals and objectives. Today, I'm going to share with you how I approach goal setting. It's also what I've advised Circle of Success members to do when setting their goals.
Here's how it works:
1. Get out a pen and paper.
Remember yesterday's exercise, where you wrote down where you wanted to be in your professional life in five years? (If you haven't had a chance to do it yet, this would be a good time right now.) I asked you to write it down for a reason. To make any goal or objective you want to achieve real, you must write it down!
2. Start with the big picture.
Look at where you want to be in your life five years from now. Using that image as your focus, set three major goals to get there. More than that can be overwhelming.
Be reasonable. Maybe you want to be earning in the top 5% of freelancers. But, is this a reasonable expectation? Does it fit your particular circumstances? If so, make it a goal. If not, tweak it.
3. Be specific.
Instead of, "I will be a top-rated freelancer," figure out what that means to you. For example: "By October 2019 I'll have five regular clients who use me twice a year (minimum) and regularly get three new clients a year."
4. Break each five-year goal into yearly objectives.
For each five-year goal, map out yearly steps to get you there. These objectives should be more specific than your goals. Use numbers and dates to assess your progress. For example: "By October 2016, I'll have gotten my first paying client."
In planning yearly objectives, let's say you find out it's impossible to achieve a goal in five years. Revise your goal. Think of how much better it is to figure that out when you're first planning than three years down the line.
5. Break each yearly objective into shorter-term objectives.
Write shorter-term objectives that you can complete in one to three months. These should be easy to visualize and accomplish. Give each a completion date. For instance: "By January 31, 2015, I'll have finished the AWAI The Accelerated Program for Six-Figure Copywriting."
6. Plan action strategies each week.
You will not be able to write down small step strategies for accomplishing short-term objectives when you first write your plan. Life changes too much.
Instead, set aside the same time every week to review your progress. This is when you develop … and write down … specific strategies to achieve your short-term objectives. For example: "I'll have finished page 2-1 to 2-75 in the Accelerated Program by Friday at 6:00 p.m."
7. Reward yourself.
This is crucial. When you accomplish any of the small steps, reward yourself by crossing it off your written list. Psychologists have proven that simply crossing off an accomplishment has tremendous reinforcing effect.
When you accomplish any of your longer objectives, cross it off your list and reward yourself with something special.
If you don't accomplish one of the small steps or short-term objectives, do not simply change the completion date. Figure out why you didn't accomplish it and change what's keeping you back!
We're talking about 90 minutes or so to write out your success plan. When you do it, you get a clear sense of where you're going and how to get there. And it gives you a huge sense of accomplishment.
Once again, it's been a great pleasure chatting with you. Let me know what you think about what we've talked about today … or, if you have any questions. Please feel free to leave those questions or comments in the comments section.
Tomorrow: How to failure-proof your career … forever.
I look forward to seeing you then!

The Professional Writers' Alliance
At last, a professional organization that caters to the needs of direct-response industry writers. Find out how membership can change the course of your career. Learn More »

Published: October 28, 2014