What You Can Learn About Web Writing By Staying at a 5-Star Hotel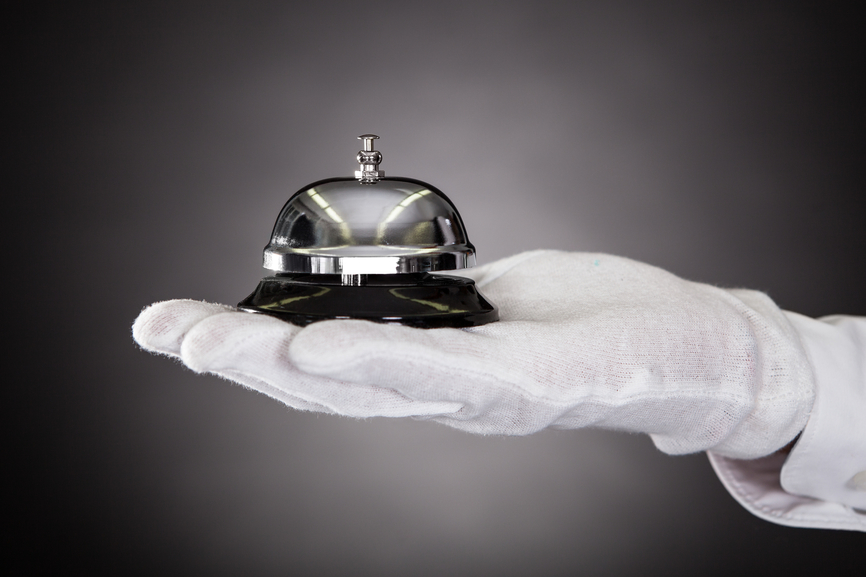 Staying in a five-star hotel is always a treat. It's the job of the hotel to anticipate your every need, to make sure those needs are fulfilled, and to make your stay an experience that surpasses simply sleeping at home.
What sets a five-star hotel apart from a four-star hotel is the level of service and amenities. In a five-star hotel, you can expect valet parking … a luxurious and welcoming lobby with comfortable seating and beverage service … 24-hour room service … and a concierge on staff.
A lot of people don't take advantage of concierge service. But this service, more than anything else, has the possibility of making your stay exceptional. I remember a colleague once telling me that the best way to find out about the best of anything in your own city — from restaurants to hair salons — was to call a five-star hotel, ask for the concierge desk, and then ask what they recommend.
A hotel concierge's job is to have the information and resources at hand to make any guest's stay better … and to be ready to jump at any opportunity to be of service when a guest needs it.
When you think about it, a hotel concierge and a web writer actually have a lot in common.
When you're writing copy for a website, you can provide a much better end-product by adopting this mindset … by thinking of yourself as the website's concierge and the visitors as your guests. Your job is to make their stay on the website exceptional and memorable … something they'll tell their friends and family about … somewhere they can't wait to visit again.
5 Ways a Hotel Concierge Can Help You Write 5-Star Website Copy
The next time you're writing copy for a website, use these five tips to approach the project like a concierge … and watch your results soar.
1. Anticipate Questions and Concerns
In a fine hotel, one of the top jobs of the concierge is to anticipate the needs of hotel guests. A good concierge pays attentions and takes note of the questions and concerns that guests have most often. From the moment a guest walks in the front door, a concierge is ready to provide the guest with whatever they need to answer those questions and meet those concerns.
On a website, you need to do the same. Talk to your client about their primary audiences. Find out what questions they receive most often through their website. Review analytics and any other data available. Understand how people arrive at the web page you're writing.
Use what you learn to determine the top two or three questions or concerns that visitors to the page will have. And then write your copy with the intention of fulfilling those needs.
2. Know Your Resources
A concierge is intimately familiar with the amenities and resources of the hotel. If a guest has a request, the concierge knows immediately where to turn to fulfill it.
When writing a website, you aren't dealing with a single page of copy. You have to be familiar with all the resources and information available on the website. That way, you can provide navigational paths that allow visitors to effortlessly find what they are looking for.
3. Know the Trends
A concierge stays abreast of news cycles to identify concerns that guests might have about the area. She keeps track of current events within her city so she can answer questions about those when her guests ask.
As a web writer, you'll be able to write better website copy if you stay on top of trends and events in your own industry. By keeping tabs on the concerns of your typical client's customer base, you'll be better able to suggest content that will resonate with visitors.
4. Always Have Another Suggestion
When a guest asks a hotel concierge for help, the concierge doesn't offer a single answer and leave it at that. He'll suggest alternatives and provide other options to make sure the guest is happy.
On a website, bringing a visitor to a dead end — a page that doesn't go anywhere else — is like giving your reader a single option and then letting them sink or swim. On the best websites, every page gives the reader somewhere else to go or prompts them take an action.
Make sure your web pages do one of the following:
Link to another page within the site
Offer the reader something free in exchange for their email address
Give the reader a chance to learn more about a product
Invite the reader to make comments
Ask the reader to take a survey
Give the reader an easy way to share the article on social media
Don't leave your reader wondering what they should do next when they come to the end of a page.
5. Know Your Industry
Finally, a good hotel concierge doesn't just focus on the resources within the hotel. They recognize that their guests will want to explore the city they are visiting and are at the ready with recommendations for good restaurants, good book stores, where to find the best coffee, where to listen to some good local music, and how to best get around town.
A successful website can't exist in a vacuum on the Internet. It has to be connected to other websites and have other websites connecting with it.
When you're working on website copy — especially if you are writing blog posts or articles — make sure you spend some time looking at other websites with related content. When you find something good, recommend it.
Also, get to know what resources your target audience needs and be ready to make suggestions for products and services not directly provided by the website you're writing for.
When you look at your role of website copywriter as a concierge to your readers, you'll create more useful and engaging content that is easy to navigate. You'll keep your visitors on the site longer, and garner more sign-ups and sales. All that will add up to a five-star experience for your site visitors, happy clients, and more work for you.
This article, What You Can Learn About Web Writing By Staying at a 5-Star Hotel, was originally published by Wealthy Web Writer.

The Professional Writers' Alliance
At last, a professional organization that caters to the needs of direct-response industry writers. Find out how membership can change the course of your career. Learn More »

Published: October 8, 2014