American Writers & Artists Institute Names Nick Usborne as 2014 Copywriter of the Year
This Web copywriting innovator was honored for his service to the industry, as well as his commitment to educating and mentoring the next generation of writers.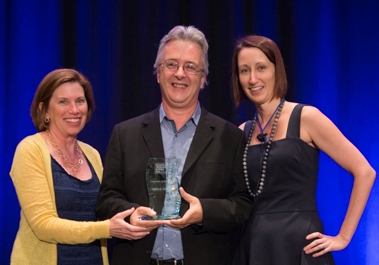 (L-R) AWAI's Executive Director Katie Yeakle, Nick Usborne and President of AWAI Rebecca Matter at AWAI's Copywriting Bootcamp on Saturday, October 18, 2014 name Nick Usborne Copywriter of the Year.
Delray Beach, FL — November 15, 2014 — American Writers & Artists Institute (AWAI) has named Nick Usborne as the winner of its annual Copywriter of the Year Award.
The honor is bestowed each year on a copywriter who has produced not only winning copy but also has actively contributed to the training and education of new copywriters. Usborne certainly passes both eligibility tests with flying colors.
Said Usborne of his award: "After receiving AWAI's Copywriter of the Year Award, I feel myself in the generous company of some of our industry's greats, like Dan Kennedy, Ted Nicholas, Bob Bly, Richard Armstrong, Clayton Makepeace, and several others. It feels good to be in such illustrious company! Needless to say, I feel honored, humbled, and tremendously grateful to be this year's recipient."
Usborne started his 30-year, professional copywriting career in the direct-mail segment. But the introduction of the Internet and e-commerce in the late '90s inspired him to focus solely on writing for the Web.
He's worked with major players like AOL, Citibank, TV Guide, The New York Times, Yahoo!, and Disney, among many others. And he has received 15 results-based awards for packages he has written.
Today, Usborne splits him time between working with clients and passing on what he's learned over the years by speaking at events like AWAI's Web Copy Intensive and FastTrack to Copywriting Success Bootcamp and Job Fair. He also has authored several training programs with AWAI, including Web Copywriting 2.0 and How to Write Your Own Money-Making Websites. And he has authored hundreds of articles for industry publications such as Clickz, MarketingProfs, and Business 2.0.
In presenting the award, Rebecca Matter, AWAI's President, highlighted Nick's work ethic and generosity when it comes to sharing his knowledge.
"I've had the pleasure of working with him as an author, a speaker, a copywriter, a coach, and have personally benefited greatly from his experience over the years, like many of you in this room today," said Matter. "That's why I'm thrilled to have this opportunity to name Nick Usborne as AWAI's 2014 Copywriter of the Year."
Past winners of AWAI's Copywriter of the Year Award include Donna Baier Stein, John Forde, Donna Doyle, and Mike Palmer, as well as the industry greats Nick mentioned by name: Dan Kennedy, Ted Nicholas, Bob Bly, and Richard Armstrong.
About American Writers & Artists Institute
American Writers and Artists Institute (AWAI), www.awai.com, has been publishing direct-response copywriting and graphic design home-study programs since 1997. Their mission is to help people develop the critical skills to acquire financial security, independence and freedom. AWAI equips members with the tools and connections necessary to land clients, start working professionally, and earn money fast. And through their free DirectResponseJobs.com site, businesses can find and hire skilled AWAI members quickly and easily. For a complete list of programs and more information about AWAI, please visit the site or call (866) 879-2924.
---
Media Contact: AWAI Marketing Team, affiliates@awai.com
Published: November 15, 2014