All Clients Are Not Created Equal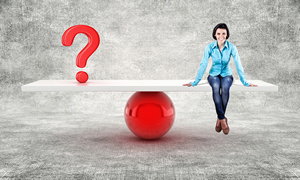 This week we're talking about the five big secrets behind hitting a six-figure income as a writer.
So far we've looked at the vast amount of work readily available for all writers and how mastering the fundamentals of writing is enough to begin earning a six-figure income.
But don't stop there. Because there are thousands of competent writers who barely earn enough money to make rent.
Pay close attention to the next three secrets behind earning a handsome six-figure writing income, and they'll help you avoid the pitfalls that have stymied many other writers.
Today, we'll start with a simple truth that can make or break your ability to ever live the writer's life:
All clients are not created equal.
You may think that's obvious, but hear me out.
I've learned, and re-learned, this truth the hard way. And I've heard from many other writers – including some "big names" you may have heard of – who have done the same.
You see, just because someone is willing to hire you to write for them doesn't mean they're willing or able to pay for the true value of your work.
The secret to earning a six-figure income quickly is to work with clients who are in a position to pay you well for writing that is valued by them.
Now, go back and read that secret again.
It's so important you need to print it out. Yellow highlight and circle it. Then tape it to the wall in front of your desk in plain sight.
Let's talk about practical application.
I'm not suggesting you should ignore low-paying opportunities when you're first starting out. They can be a stepping stone to a portfolio and reputation you can build your six-figure income on.
My first writing job was writing all the pages for a small business website. I offered to write it for free just to have something in my portfolio. That was value for me.
I used that website to convince a friend, the owner of another small business, to pay me to write the copy for his website. It wasn't a high-paying project, but it was moving in the right direction.
My third writing project was a spec assignment for a fast-growing company I wanted to write for. There's no guarantee of work with a spec assignment, yet that one spec assignment turned into a client who alone has paid me far more than six figures over the past several years. Definite value!
My point is it's ok to start low. Take what you can get as you build your portfolio and grow your writing competence. Just don't linger there.
Writing gigs from places like elance.com or guru.com may seem reasonable when you're starting out. But in those types of freelance marketplaces, the end result is often a race to the bottom of your fee range.
But beware of stunted income growth with direct clients, as well.
A few years ago, a fellow copywriter showed me some articles she had written. Her writing was phenomenal. And her client paid promptly. But …
I was stunned to learn she only earned $10 per article.
My advice to her was to raise her rates – to at least 10 times what she was currently charging!
Guess what? The company she was writing for was unable to pay that much. But other clients were. She had outgrown her client.
Today, she earns far more as a writer, even though she had to move up to other clients to get it. As you can imagine, she finds her writing career far more fulfilling when she's writing for clients who value her work and can afford to pay her according to her ability.
You see, her $10-per-article client wasn't a bad client. It was simply a bad client for her at that stage of her business.
And that's the key to using this secret of earning six figures as a writer: As your skills improve, target clients who can afford to pay you what your writing is worth. Move up or move on.
Because, you'll never live the writer's life working for free or peanuts. Unless your vision of the writer's life is working as a circus elephant. (Here's another secret: Elephants don't even like peanuts!)
Tomorrow, we'll cover another important secret behind earning six figures as a copywriter – especially if you'd like to do so in the next 12 months.
But first, I'd like to hear from you. Have your writing skills improved in the past year? Is it time to raise your rates? What concerns you about raising them?

The Professional Writers' Alliance
At last, a professional organization that caters to the needs of direct-response industry writers. Find out how membership can change the course of your career. Learn More »

Published: November 26, 2014