Finding Your Niche … and Beyond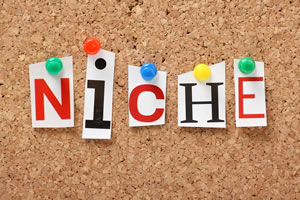 When I first started in copywriting, I knew nothing about niches.
My mentor wrote primarily for financial newsletters, but he also wrote for other products. It all seemed a hodgepodge. I felt the way to success was writing financial copy with a smattering of this, that, and the other thing.
Then AWAI came into my life. (I was one of their first members. Back in those earliest days, The Accelerated Program arrived unbound in a cardboard box.)
AWAI taught me about niches—and how choosing a niche can be an important first step in your successful career journey.
A niche is a very well-defined and distinct part of the vast world of direct marketing. When you say niche, most beginning copywriters think financial, alternative health, self-help, fundraising, and business-to-business.
But niches can be as diverse as writing for the pet industry, the construction industry, or educational products. Almost every product available to buy today fits into a specific niche, where it could be sold through direct marketing.
That provides you with tremendous opportunities … and a tremendous challenge.
The opportunity is obvious. The huge array of niches means abundant opportunities for you.
The challenge? Choosing what niches you want to write for …
Which road do you take?
Choosing a niche is much like standing at a trailhead. Numerous trails branch out in front of you. All promise a beautiful experience at the end.
That end is your copywriting success.
Some of those niches feel like steep, uphill climbs. Like me and financial. It was hard for me … and I didn't like it. But, this same niche is exhilarating, rewarding, and fun for copywriters like Paul Hollingshead and Clayton Makepeace.
Some niches feel like easy, smooth, broad pathways. Like me and fundraising.
Unfortunately, many beginning copywriters make a major mistake when they first choose their niches. They choose based on what they see as the rewards at the end without considering whether they'll like the writing they'll be called on to do.
This is what happened to me. And, it's not the way to copywriting success. If you choose a niche that doesn't excite you, your copy won't shine. It may be competent. But, it will never become A-level work.
So, which niche do you choose?
What do you love?
I recently had an AWAI member ask me about choosing a niche …
I'm brand-new to copywriting. I know I'm supposed to choose a niche. I don't know enough about copywriting to know what I'm doing yet. How do I know what to choose?
Great question. When you first start copywriting, you may not know what's involved in various niches. There's only one way I know to figure this out.
Read promotions from all possible niches. Read everything that comes into your regular mailbox. Read everything that comes into your email inbox. If you own AWAI's Hall of Fame compilation of super-successful direct-response letters, read every one of those.
You'll find some letters really vibrate with you. Some you struggle to keep reading.
The Hall of Fame letters and ads are all great sales promos, written by masters, that pulled in millions of dollars. So, if you struggle to keep reading one, that's a niche you probably want to avoid.
Congratulations. You've narrowed your choices down by a tiny bit. What's next?
Ask yourself this focusing question …
"What do I love to do in my free time?"
If you're like most people, you'll come up with three or four different favorite things to do. If you love reading The Wall Street Journal even if you don't know much about the financial world, you're well-suited for the financial niche.
If you love talking to your friends and neighbors about how to ease joint pain naturally … you're a natural for the alternative-health niche.
I love volunteering in my community. That's why I chose fundraising for one niche.
I love teaching. That's why I write these AWAI articles and teach Circle of Success Targeted Learning Programs.
These three or four different favorite things to do are where you need to start.
But, it all sounds so exciting …
Copywriting offers huge opportunities coupled with huge choices. Sometimes it seems hard to decide "which one."
It's tempting when looking at niches to think, "I can do it all. And, if I do, I'll make tons and tons of money from all over the direct-marketing map."
Ask yourself this: Who makes more money in medicine … the coronary surgeon or the general practitioner?
The specialist makes more money, because …
… for starters, the people who come to him know he's good at what he does and are willing to pay him more.
Same with copywriting. The specialist makes more money. Period. They're experts clients turn to time after time. Plus, as a specialist, you may have some ramp-up time learning your specialty, but once you do learn it, you use that knowledge over and over.
So, once you make the decision to choose a niche, find two, three, or at most four niches to call your specialty. If you do choose four niches, you'll be much happier and have a more profitable career if two of them are related. For instance, if one of them is alternative health, you might want the other to be something like exercise and physical fitness.
Don't leap too soon …
I've run into beginning copywriters who knew immediately what niche they wanted to write for. (And not because it brought in the most money.) For some newbies, it was an area they'd worked at for 25 years and now wanted to leverage their knowledge and experience in writing about it.
For some it was a passion they'd had for years.
But usually most beginning copywriters don't really have a strong sense like this. If you're like this, here's my advice. Do not feel like you have to choose a niche right away. Take your time … even if you know what you'd love to do in your free time.
Study The Accelerated Program and learn as much about copywriting as you can. Take small jobs near where you live.
Before I hooked up with my mentor, I took a job writing catalog copy for what can only be described as a luxury "adult products" store in Oakland. I enjoyed the work. But when it was done, I knew those weren't my niches, neither adult products nor catalog writing.
I did some pro bono fundraising copy at that time, as well. I loved it. I just didn't know at the time that was a legitimate copywriting niche.
I enjoyed those early "try it out days." So, give yourself some time to learn. And some time to play around.
And, when you're ready … follow your joy. Choose a niche you'll love writing in and that will make you a top, A-level copywriter.

The Professional Writers' Alliance
At last, a professional organization that caters to the needs of direct-response industry writers. Find out how membership can change the course of your career. Learn More »

Published: November 17, 2014