Guarantee Your Web-Writing Business – Without Getting Ripped Off

As a web writer, you likely know a solid guarantee will result in more sales of your client's product or service.
In fact, Dan Kennedy (one of the highest-paid copywriters in the world) calls a guarantee — or "risk reversal" — "the most powerful sales technique in the world."
What is a guarantee?
A basic guarantee simply offers to return the customer's money to them, if they return the product within a specified time period.
Of course, the more fair and unconditional you make the guarantee, the more the response will increase. Here are just a few things you can include to make a guarantee more powerful:
Include a longer time frame for claiming the guarantee. For instance, a 90-day guarantee typically gets better results than one for 30 days. Likewise, 365 days should get better results than 90 days.

Marketers say this works because the longer the time frame, the more trust you build. That leads to more sales. A second benefit is that a longer time frame results in fewer returns because more customers forget about returning the item.

Make the guarantee more "risk free" by limiting the conditions attached. For instance, if you say the item has to be returned "in the original packaging" you can expect a lower response than if you say, "return the item in any condition — even if you used it for an entire year."
Here are a few examples:
1. We Guarantee It
You may remember this simple and straightforward guarantee from Men's Wearhouse:

However, if you dig a little deeper, you'll find they have several conditions, including a 90-day limit for returns or exchanges (after 90 days, you'll get an in-store credit only), "all returns/exchanges must be accompanied by the original receipt," and "any refunds will be made in the original form of payment."
They also specify that, "all refunds require customer name, address, and phone number," and a few other things. (Almost every guarantee has some conditions.)
2. 100% Comfort and Quality Guaranteed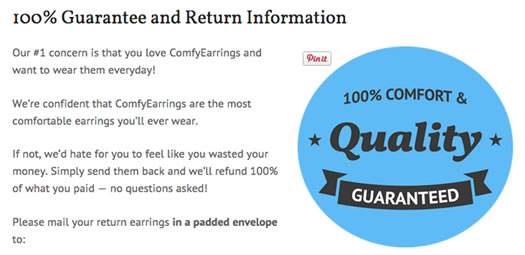 This example comes from my e-commerce site (ComfyEarrings.com).
While we have a very low return rate, we have many customers who say they initially trusted us enough to buy due to our generous (100%, 365-day), no-questions-asked guarantee.
Our only condition is that they mail the earrings back in a padded envelope — the original or any other — so the earrings don't get crushed by the USPS processing machines.
3. No Bull Guarantee

This example — from Duluth Trading — is one of my favorites. No conditions, no time frame, just send it back and get your money back.
As you can see, it's fairly straightforward when it comes to creating a guarantee for a physical product … if the customer isn't happy, they return the product, and the seller refunds the money.
But, what if you're not selling a product?
What if you're selling a service … especially a service that requires your time and attention?
A Guarantee for Your Web-Writing Services … ?
As a freelance web writer, it can be difficult to guarantee your work.
The thought alone might make you queasy.
After all, your client might be able to "return your web copy," but you won't be able to get your time, effort, and creativity back. (And, you can't resell it like you would be able to with a physical product.)
On the other hand, there's no denying that, if you alleviate your potential client's risk of hiring you, you'll have an easier job landing them — and many others — as paying clients.
So how can you guarantee your services and still ensure you get paid for your work?
It's possible, but first, be careful about what you guarantee:
Warning: Don't Guarantee Results
When I first started as a web writer, I worried that a client would ask, "Do you guarantee your copy will sell my product?" Or "Can you guarantee I'll get more traffic if I pay you for SEO?" …
Of course, I worried about a lot back then, but I knew the value of a good guarantee. I also wanted to guarantee my services because I knew it would increase trust from potential clients …
As I became more experienced, I realized the big clients — the ones you ultimately want to write for — don't ask those questions.
That's because bigger clients understand the nature of our business.
They know that very few web writers guarantee their results because the results actually depend on a ton of other factors: the website's traffic, target market, offer, positioning, competition, and so on.
The Problems with Guaranteeing Results
If you're thinking about guaranteeing your results, I highly suggest you reconsider. Even expert writers, like Bob Bly, do not guarantee the results of their copy. (See the example below.)
Why?
Here are just a few reasons:
Problem #1. Other factors you can't control.
As mentioned — and as expert copywriter, Bob Bly, points out in his guarantee:
"What I don't guarantee is a particular result or response rate.

Why?

There are many factors in your marketing — product, market,
price, list, demand, consumer preferences, the economy, the
stock market, major events — I cannot control.

Therefore, while I can and do guarantee your satisfaction with
my copy before you test it, I do not promise and cannot
guarantee specific results."
Here's an example:
You write a landing page for a client to be used with their PPC campaign (you also wrote the PPC ads and follow-up copy, so everything flows and is relevant).
However, right before the PPC campaign launches, your client tells you that they purchased an email list. They want to send an email directing the recipients to the landing page … and they'll write the email.
The problem here is that you designed the landing page to work with the PPC ad campaign; there's no way you can guarantee the response if it's used with a cold email list.
Problem #2. Your client "edits" your copy.
Most clients have a hard time accepting that — as web writers — we're likely to know what's best. (After all, they hired us for a reason.) Yet, when it comes time to send the copy into the world, clients often want to tinker with it …
If you've carefully crafted your web copy based on your training as a web writer, you would recommend that they not change even one word. But, what if they do? Can you guarantee the results? What if they change the majority of the copy? Where do you draw the line? (You don't have to, if you don't guarantee results.)
So, I'm sure you can see some of the problems with guaranteeing results. But, without offering a guarantee, how can you "reverse your client's risk" and increase the chances that you'll be hired? Here are a few suggestions:
Guarantee Something Other Than Results
Just because you should not guarantee results doesn't mean you have to eliminate a guarantee altogether.
Instead of a "results-based" guarantee, here are some things you could guarantee:
Guarantee #1. On-time delivery
It's likely your goal to always meet your deadlines …
If so, why not guarantee it?
It will help put your clients at ease and make them more willing to hire you.
Guarantee #2. Satisfaction
As for guaranteeing your client's satisfaction … Why wouldn't you?
If you do a project your client isn't happy with, you shouldn't be happy either. Not only will they likely not hire you again, but it could also hurt your reputation in the industry.
I personally guarantee my client's satisfaction — even if it means more than the typical "2 rounds of revisions" — because I'm looking at the bigger picture: a long-term relationship, referrals, and repeat work.
Here's Bob Bly's guarantee — which is listed before his statement about guaranteeing results:
"I guarantee your complete satisfaction with the copy I write
for you before you run the ad, mail the sales letter, distribute
the email, or put up the landing page or website."
Notice that he states a stipulation: the client's "complete satisfaction with the copy I write … before you run" the copy.
Once the ad, sales letter, or other copy has been distributed — and had a chance to gather results (whether good or bad) — it's too late to claim Bob's guarantee.
If you're particularly worried about offering a guarantee that opens you up to "getting ripped off," here's one suggestion:
Start Small
One way to "guarantee" your services is to "start small" with each client. Basically, don't jump right into a $10,000 job without first giving the client a "test run." (And, giving the client a chance to "test" you.)
This might sound counterintuitive to getting big projects and big fees, but what happens when you spend a month on a large project only to find out the client doesn't like the direction you went?
Answer: You'll likely spend another month — or more — on revisions, which will seriously reduce your hourly rate.
Instead, start with something smaller — like one email or one article.
This way, you can guarantee your client's happiness without taking a lot of risk yourself. Here's a great example of this method from copywriter, Jason Leister:
First, Jason requires:
All new client relationships begin with a paid consultation via the Monday Mastermind.
Jason's "Money Mastermind" is a 25-minute consulting call. The time is limited — reducing Jason's risk — and the client can "try out" Jason's advice without a lot of risk.
The fee is $99 and the client's satisfaction is guaranteed: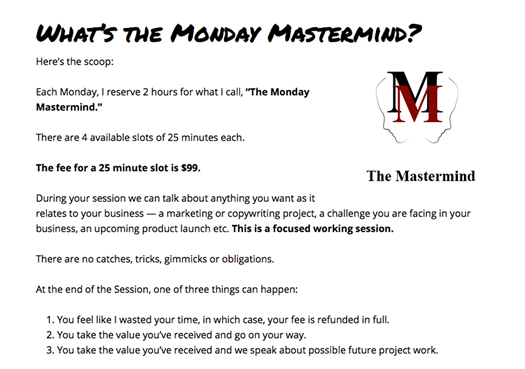 Jason's "Monday Mastermind" is a great way to put potential clients at ease while keeping everyone's risk down.
Later, once you know how easy (or difficult) the client is to work with, you can upsell them on that $10K project (or simply walk away).
Your Turn
Do you offer a guarantee for your web-writing services? Why or why not? Join the conversation in the comments below.
And remember, focusing on what you can guarantee — like on-time delivery and 100% satisfaction — will take the attention off what you can't (and shouldn't) offer — a results-based guarantee.
This article, Guarantee Your Web-Writing Business – Without Getting Ripped Off, was originally published by Wealthy Web Writer.

The Professional Writers' Alliance
At last, a professional organization that caters to the needs of direct-response industry writers. Find out how membership can change the course of your career. Learn More »

Published: November 19, 2014