Live: The Barefoot Writer November Issue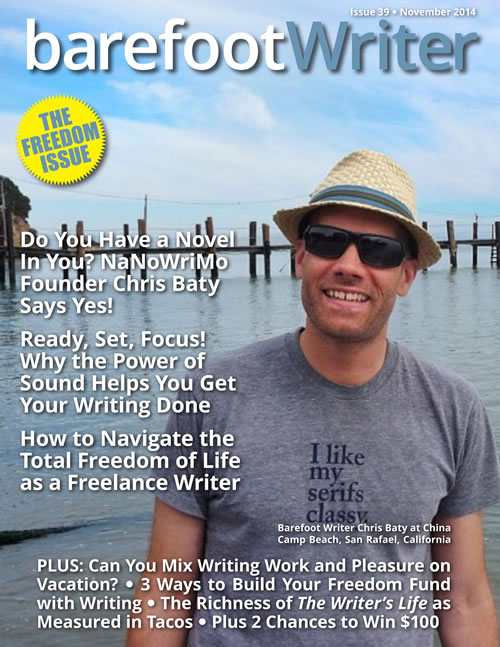 You wouldn't think a taco could play a role in freedom, but this month's issue proves otherwise.
Not only do we cover the role played by tacos — and other surprising things — in building a satisfying writer's life … but we also answer this commonly-voiced question:
"I know Barefoot Writing means freedom, but how? What should I do? Where do I start?"
Our November issue gives you a glimpse at the many different paths to freedom a writer can take. We've got some rich examples in store for you, from a travel writer who's booked for the next six months to a writer who ghost-wrote a book for a U.S. President.
You'll also read about …
How to build a rich writer's life you can measure in joy
Why you should build a "Freedom Fund" (plus easy ways to get started)
How to work on vacation — or not — depending on what you want your writing life to look like
Step-by-step instructions to get you started in article marketing
And much more!
Also, don't forget about our monthly Barefoot Writing Challenge Essay contest. Take Diane Stevens … she won our September contest, and we were so impressed with what she submitted for the October Challenge, we've hired her to write editorial for us.
So don't hesitate another minute to go after what you've always wanted. You never know what might come of it.
Click here now to read your November issue of Barefoot Writer.
Not a subscriber yet? Click here to learn more about becoming a member of The Barefoot Writer and start living the lifestyle you want by writing.

The Professional Writers' Alliance
At last, a professional organization that caters to the needs of direct-response industry writers. Find out how membership can change the course of your career. Learn More »

Published: November 7, 2014