Looking Inward for Copywriting Success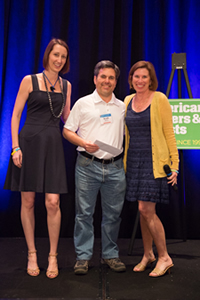 When Scott Martin was writing his Spec Challenge copy, he didn't have to look far to research the target market or envision his prospect.
"AWAI selected the headline/lead I wrote for the Bootcamp promotion. Seeing as I'm the target for that promotion, I focused on the part of Bootcamp that's most important to me: the Job Fair," explains Scott. "I have to admit I was a bit surprised when I was selected."
Scott, one of the 2014 Spec Challenge winners, was recognized at Bootcamp on stage and awarded a check for $1,000. He'll now work with the AWAI team on fine-tuning the copy. And, if his Bootcamp sales letter is chosen to be mailed to the AWAI list, he'll be paid again!
An AWAI member for three years, Scott has also been busy in other areas. By an odd quirk that he can't explain ("I'm NOT an SEO specialist," says Scott), his freelance website (www.ScottMartinCopywriter.com) is ranked #1 on Google for the term "direct-response copywriter." He's getting three to four leads per week from this traffic. That's a great example of the power of a well-designed freelance website, by the way.
"I'm working on working for the top direct marketers in the world. And I'm starting to get some assignments from these marketers … thanks to my AWAI membership, Job Fair at Bootcamp, and raw persistence," explains Scott. "I'm also building a database of potential clients and will start a campaign targeting them in about two weeks."
He's already done some great things with clients, including some major sales in the golf industry, which is one of his favored information-product niches. The other two are health and wealth.
"One of my big clients works in the golf space. I've helped this company grow, so that's exciting. One promotion sold $1.6 million worth of wedges … no golfer wakes up in the morning thinking, 'I must have three new wedges today,' so it's fun when the copy is successful," says Scott. "My copy has sold over $20 million in the last 24 months and that's good for my clients."
Scott credits his success to a lot of factors. But writing a lot, focusing on the client's goals, learning from failure, friendships with other copywriters, hard work, and persistence figure heavily, he says.
Again, congratulations, Scott. You're doing a great job. And keep us updated on how things are going.

The Professional Writers' Alliance
At last, a professional organization that caters to the needs of direct-response industry writers. Find out how membership can change the course of your career. Learn More »

Published: November 6, 2014