The Will to Succeed

"Improving willpower is the surest way to a better life."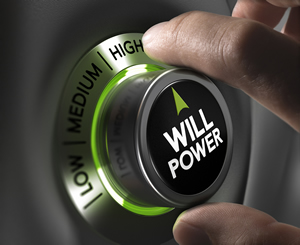 Those aren't my words. They're the words of Roy Baumeister, Professor of Psychology at Florida State University, where he's been doing experiments in willpower and self-control since 2000.
His research shows that you can train your willpower.
What's this mean for copywriters like you and me?
Choosing between what you want to do
and what you must do to succeed …
Being a freelancer of any sort takes willpower. More so if you're a copywriter.
We're constantly challenged to stay on task. Email. Internet. Phone calls. Friends. Family. All these distractions assault you, threatening to derail your efforts to write and succeed.
It takes willpower. Many of us learned willpower is a matter of moral strength. Many of us got this message pounded into us growing up. I got it from my mother … and the nuns!
Unfortunately, this perspective makes calling on willpower that much more difficult. If willpower is simply a matter of moral strength, either I have it or I don't.
"Not much I can do about it," I tell myself. "I'm hardwired (so the moral strength model says) for being distracted. For giving into temptation."
Baumeister and science writer John Tierney tell a much different tale in their book Willpower.
They contend … and have the experiments to prove it … that willpower is a skill that's learned. And—this is the important point for you and me—exercises can build willpower.
According to Tierney in an interview by NPR's Audie Cornish:
"The Victorians talked about this vague idea of it being some form of mental energy. In the last 15 years we've discovered that it really is a form of energy in the brain. It's like a muscle that can be strengthened with use, but it also gets fatigued with use."
Out of sight, out of mind … and more productive
How can you strengthen your willpower? Or, at least give your willpower a better chance of succeeding?
"Out of sight, out of mind" doesn't seem like much of strategy for building willpower. But it is. It has huge impact on how easy … or difficult … it is to exercise the willpower you do have.
Here's why.
Resisting temptation, like a sweet treat or going on YouTube, saps mental energy you need for self-control.
Dieting is a good example. Putting food where you can see it drains willpower. Putting it out of sight makes it easier to resist, because you're not actively resisting temptation.
Baumeister ran a study where experimenters forced hungry students to resist eating chocolate chip cookies. They didn't do as well on later tests of focus and self-control as students who hadn't been asked to exercise restraint.
Your reserve of willpower is limited. You need to conserve it and save it for times where using it is critical.
Here's the implication for times when you're supposed to be working.
Eliminate as many work-related normal distractions as possible. Turn off the phone and let everything go to voicemail, if you can.
Close your office door (if possible) and hang a "do not disturb" sign on it.
Don't keep your browser open in the background when you're writing. If possible, you might even consider turning off your Internet connection.
But also, reduce temptations in other areas. Keep food temptations out of sight, out of mind. Same for anything else that could sap the self-control you need to stay on task with your copywriting.
Want more willpower? Sit up straight!
Baumeister's experiments show you can build willpower through exercise. You do this by challenging yourself in small areas of self-control.
In one study, experimenters told students to watch their posture for a week. After that week, those students performed better on self-control tasks. And these tasks had nothing to do with sitting up straight. Students who had not been exercising posture control all week didn't do as well.
Other simple willpower-building exercises suggested in Baumeister's book include:
Not using contractions in your speech. (But use them freely in your copywriting.)
Forcing yourself to speak in full sentences.
Making yourself say "yes" instead of "yep" and "no" instead of "nope."
And, not using profanities.
Doing these sorts of activities requires mental effort, and according to co-author Tierney …
"The more you do that, the more it builds up that muscle."
What are your biggest challenges to willpower? How do you deal with them? Do you have any willpower-building strategies that work well for you? Please let us all know by leaving a comment here.

The Professional Writers' Alliance
At last, a professional organization that caters to the needs of direct-response industry writers. Find out how membership can change the course of your career. Learn More »

Published: November 24, 2014