Use a Money-Making Website to Get Your Foot in the Door with Dream Clients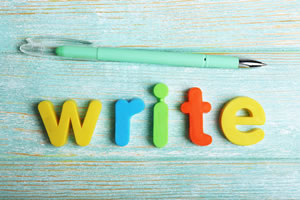 Rebecca Matter here … helping you get your foot in the door with your dream clients this week.
Today I'll give you what is probably one of my favorite techniques …
It's one I shared over on Wealthy Web Writer earlier this year, and since then, have had numerous members report back about their success using this tactic to build their writing businesses in recent months.
The technique: use a money-making website to get your foot in the door.
If you're not familiar with a money-making website, it's basically an information site on a specific topic. In this case, your website would be on a topic relevant to your niche. You can learn more about them here, but I'll also give you a specific example …
Let's say your niche is the mommy market. And your ideal clients are companies who sell products and services to new moms.
You might put up a website with content geared toward new moms, addressing common concerns and fears they might have about caring for their new little babies.
On the website, you'd also include reviews of various products and services they'd be interested in.
That's the first opportunity to get your foot in the door with clients …
Send your product review to the company who manufactures or markets the product, letting them know your website exists, and asking them to review the posted article for any inaccuracies, or to address any concerns you cover in the review.
They'll click the link to your website to read the review … no smart marketer wouldn't. Because they'll want to know what people are saying about their products … plus the fact you're giving them free traffic!
And, when they get to your website, they'll see just how good of a copywriter you are. You'll get the opportunity to demonstrate your value to a captive audience. But, that's only the beginning …
You may decide to write a direct-sales page, actually selling their product or service on your website.
And sure, you can include an affiliate link and create a little revenue stream from your money-making website. But more importantly, you can also use the sales page as another opportunity to get your foot in the door …
Once again, invite the marketer to review the sales pages on your website for any inaccuracies. And, after they respond with, "It looks great!" … you simply follow-up with an, "Oh, by the way, I'm a copywriter and can do this for you, too."
And, we're still not done …
There's one MORE way you can use your money-making website to get your foot in the door.
The third opportunity is to write a special report – or even a simple blog post – where you include quotes from experts and other people in the industry.
Email your potential client, and offer them the opportunity to provide a quote. Most will jump at the chance. They need and want to be seen as an expert in their industry, and your little website is one more opportunity for people looking online to find them.
Here's why the Money-Making Website Method works …
You're attempting to add revenue to your potential client's bottom line by promoting their company and products. And, you're not even asking them for any money in return! (At least not yet … )
It gives the client a chance to see you in action and evaluate what you can do with your writing.
And, with the last opportunity, it immediately raises the concern, "What if one of my competitors takes advantage of this opportunity before I do?"
Now, like I said yesterday, the strategies I'm giving you this week take a bit of work. But, they'll get your foot in more doors than you ever thought possible.
Do you already have a money-making website? Is this a strategy you'd like to consider? Share with me your thoughts and post any questions you have here.
Then, join me tomorrow for my next strategy for getting your foot in the door …
This one works best if you have any interest in writing for the web … and will work regardless of whether you want to write websites, content, social media, auto-responders, you name it.

How to Write Your Own Money-Making Websites
Learn how to write an information website in your spare time and earn $1000, $3000, even $5000 a month in passive income. Learn More »

Published: November 18, 2014