Use the Basic Audit Method to Get Your Foot in the Door with Dream Clients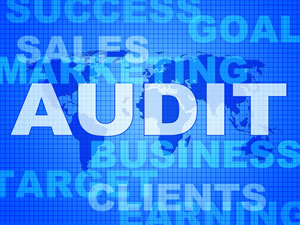 Getting your foot in the door so clients will give you a chance …
That's my goal for The Writer's Life this week.
Rebecca Matter here …
Yesterday we covered using the Money-Making Website Method to get your foot in the door with clients.
It's one of my favorite techniques, because the time you spend on your website can create an additional revenue stream for your business, and it's a fantastic "training ground" to practice your craft. Plus, you can use it to get your foot in the door with numerous clients, without a ton of extra work each today.
Today's method requires hardly any set-up time, but is best used when trying to get your foot in the door with specific clients … the one you REALLY want to work with.
I call it the Basic Audit Method, and, as the name implies, you simply do a basic audit for potential clients.
Now, an audit is usually a list of a few opportunities you found in their current marketing strategy that could use some improvement. And, while many people think of "website audits" as the typical one, you can really do an audit in just about any area of writing.
A few example audits include:
Social Media
Email Funnels
Auto-Responder Series
Content Marketing Plan
So, how do you do an audit?
If you really want a step-by-step blueprint to performing audits – I highly recommend Pam Foster's Site Audits Made Simple. She walks you through performing a website audit, and even shows you how to get paid to do the audit itself.
But today, I'm just talking about using them to get your foot in the door with a potential client, so they don't need to be too complex.
Simply visit your dream client's website, social media accounts, etc. and start to look for areas that could be improved …
Do you think you could make the subscription page for their eletter attract more subscribers?
Are there pages on their website that don't lead anywhere (often called "dead ends")?
When you sign up for their eletter, do they send you any acknowledgement emails? How well are those emails written?
Do they have any case studies?
How well do they engage people with their social media efforts?
Like I said, you can do an audit on just about every area of marketing and for any type of writing you want to do.
The key is to have a valuable list of things that – if improved – could help them achieve their goals better and/or faster.
That way, when you reach out to the client …
You have something they want;
They can see you're a writer who values them as a client and will provide valuable services for them; and,
Your audit sets up a list of things they can give you a shot on right out of the gate.
You simply tell the client …
"I recently performed an audit on your <fill in the blank>, and found a few missed opportunities that you should really be taking advantage of – or challenges that you think will have a big impact if fixed."
And then, after you give them the details, you have the perfect opportunity to pitch your services and sell why you should be the person to fix them.
Why the Basic Audit Method works …
You immediately provide value to the client right out of the gate – before they even hire you!
Your "sales pitch" is specific to the client, so they're more likely to respond to you and listen to what you have to say.
Your efforts demonstrate a high level of professionalism.
The audit sets you up for an easy proposal, since the response after reviewing the audit is typically, "What can you do to fix this?"
Now, as I've been saying all week, the strategies I'm giving you do take a bit more work. But they WILL get your foot in the door and land you more clients – so it's worth it.
What questions do you have about the Basic Audit Method? Is this a strategy you'd like to consider? Share with me your thoughts and post any questions you have here.
Then, join me tomorrow for my next strategy for getting your foot in the door …
This one can be done by itself or coupled with the two strategies I've given you so far …
And, it's the one most people have used to get their foot in the door with me.

Site Audits Made Simple: Consult Your Way to Lucrative Web Copywriting Projects
Pam Foster reveals how you can make as much as $2,500 auditing websites while setting yourself up for even bigger web copywriting projects. Learn More »

Published: November 19, 2014