Use the New Idea Method to Get Your Foot in the Door with Dream Clients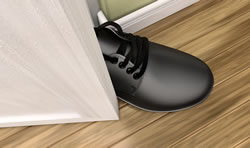 Hopefully by now you're feeling good about your chances of getting your foot in the door with new clients – or you've already used one of my techniques and are already in!
If you're a bit late to the party, on Tuesday I showed you how to get your foot in the door with clients using the Money-Making Website Method, and yesterday I showed you how to do it with the Basic Audit Method.
Today, I'm going to give you the technique that has worked for almost every freelancer working for me today …
It's a simple technique called the New Idea Method.
I know … my method titles aren't super clever … and it's easy to guess what the method entails. But …
When it comes to landing clients, there's no "secret sauce" or "magic button."
With this technique you simply reach out to the client with a new idea (or ideas!) aimed at helping him achieve his goal – which is ultimately to sell more of his products or services.
Mindy McHorse – who now serves as the Managing Editor of our popular magazine, The Barefoot Writer – used the New Idea Method to get her foot in the door with Wealthy Web Writer …
She pitched a "new idea" of having a reality blog on the website, where she would detail her entire journey – good and bad – on her way to hitting her six-figure goal. (If you're a subscriber, definitely check out the archives – or the 12-step roadmap she put together after she was done for people who wanted to follow in her footsteps faster – by avoiding all the mistakes she made along the way.)
Henry Bingaman – who is on his way to seven figures – got his foot in the door by pitching something called "3-Minute Guru," where he would teach our members how to do things in 3 minutes or less by filming short tutorials and posting them on the website.
Robert Rice – an actor by day, copywriter by night – suggested we promote the copywriting program to actors – since they're in need of a job that doesn't require them to work at specific hours of the day.
Rae Robinson caught my attention with a recommendation on turning a promotion for The Barefoot Writer into a magalog.
Jen Adams pitched an idea for a new marketing funnel … and landed an in-house copywriting job.
Pat McCord pitched a new headline and lead and set herself up with a control targeting writers, and now receives a nice royalty check every quarter …
The list goes on and on and on.
Why the New Idea Method works …
You're giving potential clients a new idea. Something they aren't yet doing. And, they didn't even have to pay you for it! (Yet) :)
It shows your expertise and sets you up as an "idea person." And, I'll tell you, even if they don't go with your first idea, you'd better believe they'll open your next email, and the one after that, simply to see if you have another new idea for them.
It makes it very easy for the client to give you a shot. It's not something they're currently doing, so your work will add to their efforts, not risk anything that's already working.
Which leads me to some best practices when coming up with and presenting new ideas to potential clients …
First, be thoughtful with what you recommend. Make sure it's relevant to their target audience, matches the price point of what they're trying to sell, and is in line with the company's intentions and messages.

For example, you might not want to pitch a 45-minute video sales letter (VSL) to your local yoga studio, who is looking to get people to put up just $15 for a new class …

The project is likely going to be too expensive for the client, and a full-blown VSL isn't necessary to achieve a small $15 sale.

Instead, maybe you'd pitch a free 5-minute training video that people can download to "take their practice on the go," and then write a series of auto-responder emails that will be sent afterwards to get them into the live class.

Relevance is key.

Next, be specific. Don't just send an email saying the client should add a new marketing funnel to their website. Tell them why, and include a few specifics about what you'd include, who it would target, the call to action, etc.

Also, be unique. I get an email almost every day from someone trying to sell me a list or help optimize the AWAI website. They're easily dismissible, because I know I'll get another one just like it tomorrow. You want to stand out with something that makes the potential client stop and think, "Would this idea work for us?"

Even if the answer turns out to be no, you still did your job. You got his attention with your unique idea and showed him you're thinking creatively about how to improve his business/marketing.

Finally – and, this is the most important part – make it easy for the client to say, "YES!"

Mindy, Henry, Rae, Jen, Pat … every one of them was ready to go the minute I said yes. There was almost no work required on my part – just a simple, "Let's do it" … and they were off and running.

It was easy for me to say yes.
Today, I want you to think about a company you'd like to write for, and come up with 2-3 ideas that would be worth presenting. If you get stuck, or have any questions about the New Idea Method, post them here.
And either way, I'll see you tomorrow for my list of other strategies you can use that will work even faster … you won't want to miss it. I'm literally going to give you 6 more ways you can get your foot in the door, on top of all the secrets I've already given you this week.

The Professional Writers' Alliance
At last, a professional organization that caters to the needs of direct-response industry writers. Find out how membership can change the course of your career. Learn More »

Published: November 20, 2014