5 Ways to Be Happier as a Freelancer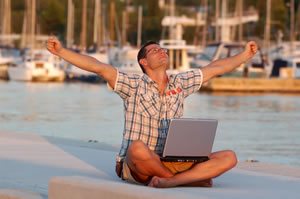 Anyone who's been part of the freelancing world for a while knows it's not all sunshine and roses. It has the potential to be, but that's half the problem.
Here's why: As a freelance writer, you're in control of just about everything. Really. It's all true, what they say …
You decide when you work, whether it's all day long or just twice a week or at three in the morning.
You get to pick your clients and your projects and set your own fees.
You're basically master of your own destiny. And that's awesome … assuming you never get tripped up.
Unfortunately, just about all of us run face-first into freelancing hurdles now and then. And the downside to being a freelancer is the same as the upside: You're in control of just about everything.
That means when things go wrong, there's no bad boss to blame. No slothful coworkers. It's just you, which makes it far too easy to feel like a failure as a freelancer. You may find yourself wondering (as I often do), "Why can't I get this right?"
I struggled with that for a while, till one day … I woke up to what it really means to be a happy freelance writer.
Here are the five things that helped me get there.
#1: Play Nice With Other Writers
One of the most important lessons I learned early on in my writing career is also the thing about which I was most naïve:
I thought other writers were my competition.
When I first enrolled in AWAI's Circle of Success, I was assigned to a group of about 15 other writers. Group members hailed from all over the States, and three lived overseas.
Despite the odds, two of the 15 group members lived in Albuquerque, New Mexico. That included me, and one other guy.
"But I'm the copywriter in Albuquerque!" was my first thought as I surveyed the list of names and hometowns.
Looking back, I don't think a more ridiculous idea could have crossed my mind. For starters, over the course of my seven-year copywriting career, I've only ever had one local client. All the others live over a thousand miles away from me. One long-time client lives in Europe.
There could be 500 or 5,000 other copywriters in Albuquerque, and there'd still be more than enough work for all of us.
So don't ever look at other writers as your competition, or as people you need to guard your secrets from. Because really, they're your allies. They might even become your closest friends. After all, few can understand you better.
I probably would have quit ages ago if I hadn't had the steadfast support of people who really understand life as a freelancer, and who have helped me tremendously throughout my career.
#2: Put Some Distance Between You and Technology
I've been using computers to communicate for so many years now, my once-lovely handwriting has gone to pot.
It's gotten so bad, more than one person has remarked I should have been a doctor!
Let's face it: Technology is efficient, comfortable, and safe. Walking through a park and scribbling notes on paper just sounds — to me, at least — ineffective. I'd much rather have something I can save to the Cloud and run a search for the next time I need it. Something that can't blow away or get waterlogged or get lost in my piles.
But …
While technology rocks for a lot of reasons, it's got nothing to do with the heart of life. Over time, it can drain your creativity. How many people do you know who look at their smartphones first thing in the morning, then move to a computer for the bulk of the day, then switch to a tablet for the evening, and then go to bed with their phones? (Perhaps you're one of them?)
Having everything we ever wanted to know and more at the touch of a button is intoxicating. It's also a creative drain.
The antidote is to get away from it all and just breathe. Walk around your block, stroll through a park, sit in the sunshine, have lunch with a friend …
Unplugging like that not only fuels creativity. It also fuels joy. So give yourself at least — AT LEAST — two hours a day sans technology.
#3: Sweat, Sweat, Sweat
I hate to sound cliché and write about the importance of exercising … so I'm going to go beyond the well-known physiological benefits. Instead, let me share a writing-specific reason you need to exercise on a regular basis.
First of all, exercise improves creativity. A study from the journal Frontiers in Human Neuroscience actually proves this. Your cognitive ability (and therefore your ability to be creative) spikes when you exercise on a regular basis.
But you have to sweat for at least 30 minutes, three times a week. And when you do, it won't just be your creativity that gets a boost … your mood improves as well. Any persistent uncertainty, fear, or anxiety you struggle with basically evaporates and leaves you open and cleansed.
And that's good, because it's a lot easier to think outside the box and solve business challenges when you're happy while you do it.
#4: Empty Your Mental Dishwater
Here's another writing-specific reason to exercise. But this one has more to do with cleansing and detoxing. And you don't need to sweat for this one.
Basically, if you want to enjoy your writing career, you've pretty much got to unload anything toxic you're carrying around … whether it's toxic thoughts, toxic things you've eaten, or toxins you've breathed into your body.
The solution? Yoga. Meditation works, too. TIME Magazine ran a segment on the power of yoga a few years ago, where it was described as an activity that "pushes out the dirty dishwater of your body." (Toxins, in other words.)
Same thing holds true for your mind: If you can meditate daily and focus on the power of gratitude, positive thinking, and joy, you'll push out that dirty "mental dishwater" and find more joy in even the little perks of freelancing.
#5: Embrace the Bomb
Push aside all thoughts of freelancing for a minute. Have you ever messed anything up? Or seen your efforts blow up in your face?
If it was something you didn't care much for, you likely gave up and moved on. But if it was something you felt passionate about, you probably tried again till you got it right. Right?
Freelancing is the same. It's not something everybody gets right on the first try. There's a darn good chance you will have something blow up in your face.
But you know, if you can learn from that experience … grow because of it … and best of all, write about it … you'll be a better freelancer for it.
And as the freelancing experience gets better and easier, you can bet you'll be happier. So accept that you'll make mistakes — everyone does — but, you can also move right on past them.
Why Freelancing Just Gets Better With Time
The bottom line is that freelancing carries a lot of potential to bring great joy and significant income to your life. But it's very easy to get frustrated if you have a slow start or face more than your share of challenges.
We all go through phases where we feel like we're failing (I know I do … and often). It happens every time I'm behind on a project, or working on something I don't particularly like, or stressed in any way because of my writing career.
The thing to remember is that freelancing is a job … so the best approach is to learn, grow, and move forward. Yet, it's also an incredibly pleasurable way of life. So focus on finding happiness in the freelancing experience, and I guarantee both your career and your lifestyle will get better and happier over time.
This article, 5 Ways to Be Happier as a Freelancer, was originally published by Wealthy Web Writer.

The Professional Writers' Alliance
At last, a professional organization that caters to the needs of direct-response industry writers. Find out how membership can change the course of your career. Learn More »

Published: December 3, 2014