Fight Back and Promote a Cause You Believe in … Just Like Santa Did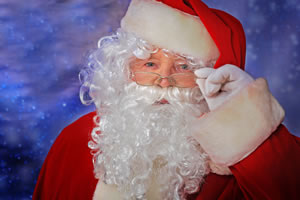 So far this week, we've uncovered two new benefits AWAI members are enjoying from their Money-Making Websites, in addition to the passive income stream it can create.
We begin today's issue by going back to November of 2013 …
That's when park districts in the Chicago area, who use the name "The Polar Express" for their train and trolley rides, received a letter from Warner Brothers (acting on behalf of Rail Events, Inc.) informing them that changes were required in regards to their service.
The bottom line being that Warner Brothers wanted what would amount to the equivalent of potentially 30% of their gross receipts, in order for them to continue using the name "The Polar Express."
Warner Brothers promptly received "The Lump of Coal Award" from the Illinois Santa Clauses.
You see, AWAI member and professional Santa, John Sullivan (now 75 years old), had documented what was going on in the Press Room section of his website, Santa in Chicago. From there, the local and national press caught wind of it (ABC News, The Washington Times, The Associated Press wire service, St. Louis Post-Dispatch, to name a few), and John became the unofficial spokesperson for the cause.
So, instead of getting their way, Warner Brothers backtracked. And, a few months ago, they released a statement saying the Chicago park districts no longer had to abandon "The Polar Express" name for their train and trolley rides. They came to a compromise that benefited everyone. They could use the name "The Polar Express Storytime Trains," as long as books and DVDs were also offered for purchase.
A victory for the little guy – meaning the girls and boys who love taking a trip on "The Polar Express" during the Christmas season.
And a victory that would not have been possible, if not for the publicity about the situation generated from John's Santa in Chicago website.
Money-Making Website Benefit #3: It's a way for you to help bring attention to a cause that's close to your heart.
But that's not the only benefit John's Money-Making Website has brought him. When he started his site in 2009, John was booking about 15 Santa appearances a year. Now he works as much as he wants (generally between 40 and 60 bookings a season). He has so many requests for his services, he now gives out leads to some of his fellow Santa Clauses.
John's advice to people thinking of starting a Money-Making Website is to "follow your heart." He says, "For me, it's not really about the money. It's because I love doing this."
What issues are you passionate about that could use more publicity? GMOs? Organic food? Disappearing bees? Poor treatment of animals? Climate change? Do you have a cause that's near and dear to your heart that you'd like to bring more attention to? If so, add them to the topic list you started yesterday. This will all be fodder for content you'll eventually post on your Money-Making Website. Please share your comments here.
Tomorrow, an AWAI member pays tribute to his mother, as a way to pass on her legacy to future generations. You won't want to miss it.

How to Write Your Own Money Making Websites
Learn how to write an information website in your spare time and earn $1000, $3000, even $5000 a month in passive income. Learn More »

Published: December 3, 2014